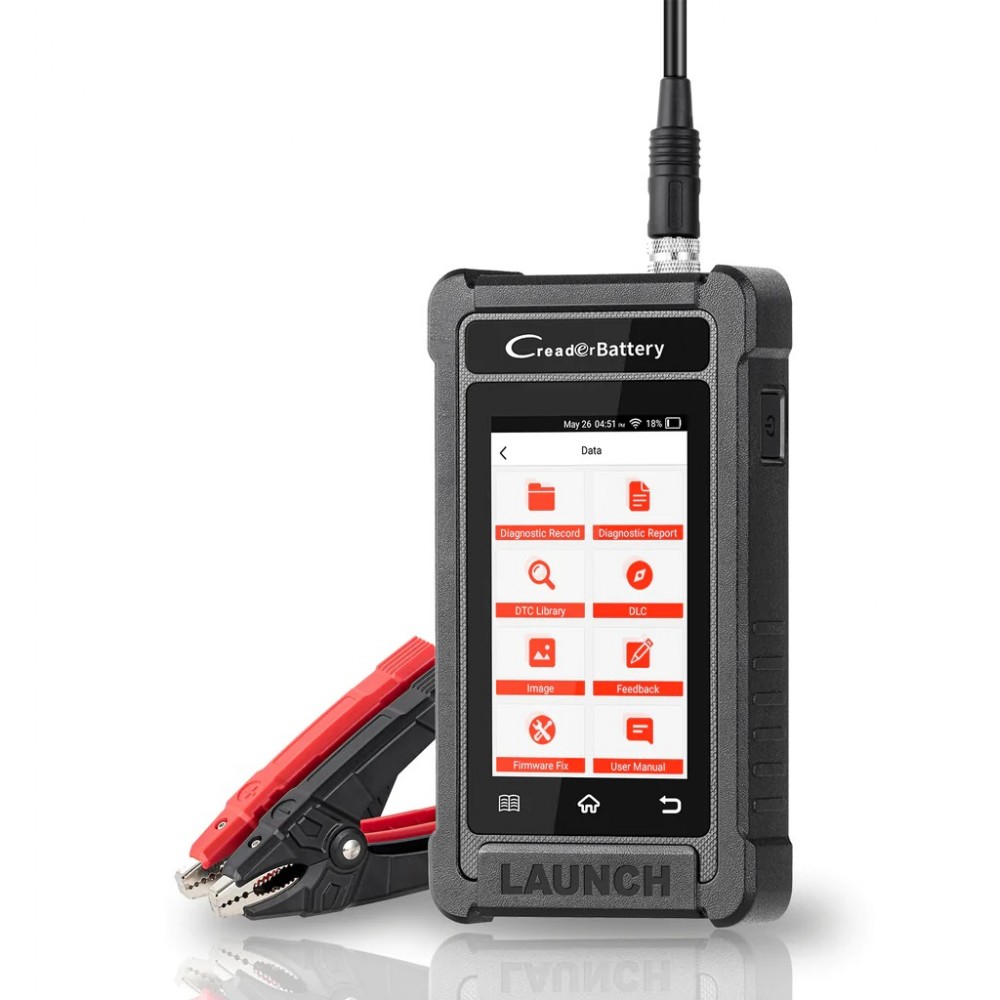 LAUNCH X431 CRB5001 OBD2 Scanner 12V Car Battery Tester Auto ABS SRS AT ENG Diagnostic Tools 6 Reset pk CRP123E CRP129E BST360
Looking for help? or Get More Discount
Please contact WhatsApp:
+1 937 888 0032
Product Description
2022 New Arrival - 3-IN-1 LAUNCH CRB5001 OBD2 Scanner, Integrated battery detection and vehicle diagnostics

Battery Detection Function + 4 System diagnostic for ABS SRS Transmission Engine + 6 Reset Service for RESET OIL, RESET BRAKE, RESET BLEED, RESET TPMS, RESET ETS, RESET BMS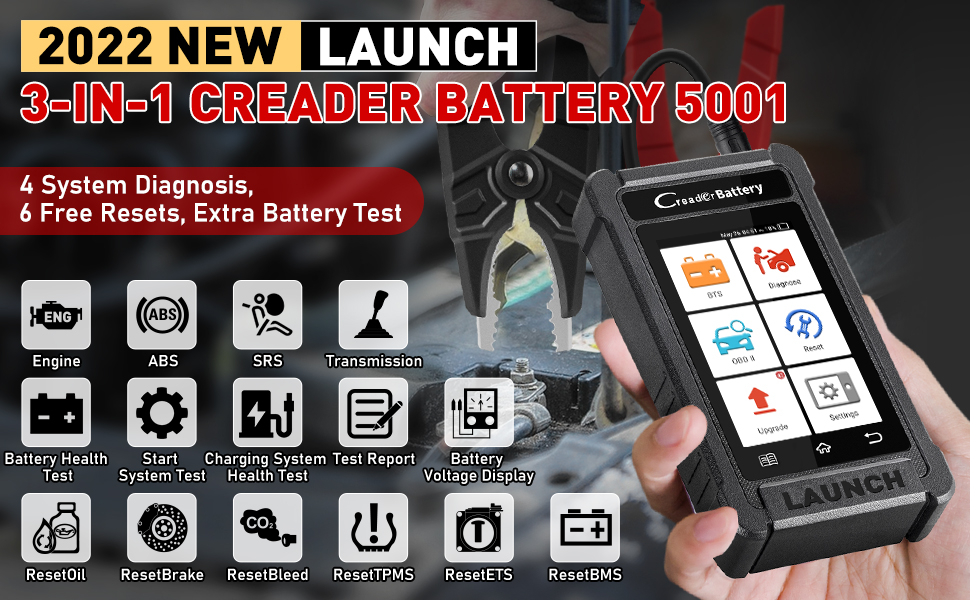 Multi-Language Supports
English,French,Spanish,German,Italian,Russian,Portuguese,Japanese,Korean,Traditional Chinese, Polish . All languages are free to use.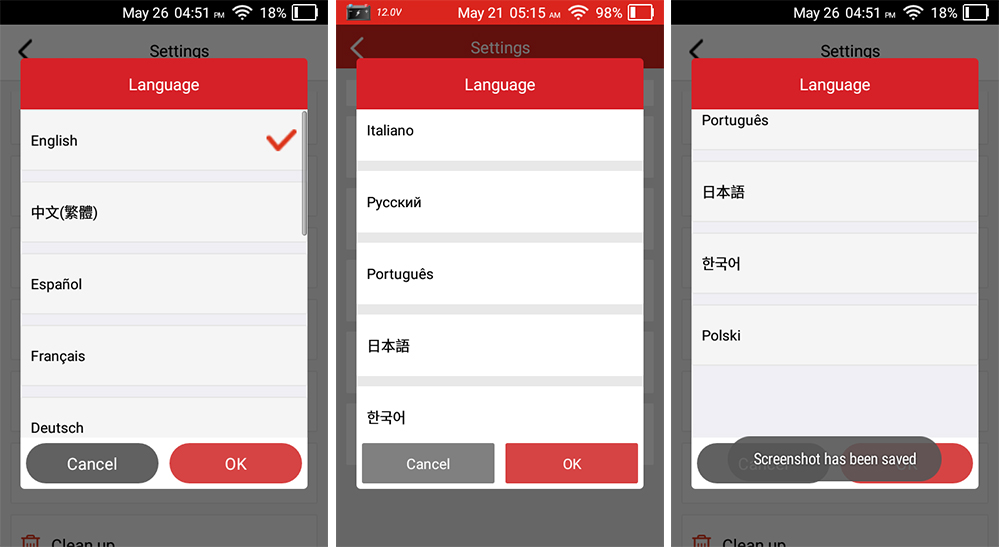 1. Professional Battery Detection Function
LAUNCH CRB5001 Supports three battery detection modes: battery health detection, system start-up detection, and battery charging detection, Real-time monitor the battery health status include. Supports battery types: Lead-acid battery, GEL battery, and AGM battery, Supported battery standards: CCA (100-1700), BCI, CA, MCA, JIS, DIN, IEC, EN, SAE, GB, Compatible with cars, motorcycles, trucks, RVs, ATVs, SUVs, boats, yachts, mowers, and even golf carts.
2. Battery Health & Charging & Cranking Test
With LAUNCH CRB5001 Automotive Battery Tester, we can check the overall health of the battery, including the cranking test, and run a complete system charging test. The cranking test is to test and analyze the starter motor to check if the starter motor is working properly, and the charging test is to check the state of the charging system to avoid damaging the battery. It is much more convenient than driving a few miles to a nearby auto repair store.
3. ABS SRS Airbag Transmission Engine 4 System Diagnosis + Auto VIN Scan
LAUNCH CRB5001 diagnose electronic control systems, read/clear codes, data stream, retrieves ECU information for Engine, ABS, SRS, Transmission. perfect balance of power and affordability, providing the ability to view preset, or user defined, live data streams for ENGINE, TCM, ABS and SRS data, the ability to graph, record, replay and print data, read and resets codes for 4 systems. Launch Scanner shows quick and accurate vehicle identification via AutoVIN scan, helping you pinpoint the cause issue by reading code, freeze frame and real-time live data.
3. 6 common special functions + Health Report Print
LAUNCH CRB5001 OBD2 Scanner can do total 6 Special Resets including Oil Reset, Brake Reset, ABS Bleeding Reset, TPMS Reset, Battery Reset, Throttle Position Reset. Even if you are a beginner, you can perform basic maintenance on your own. ALL diagnostic data can be record and generate to diagnostic report which can be shared to email then print on computer. **The function list is related to vehicle's make, model, and year.
4. Full OBD2 Functions + Lifetime Free Update + Multi-Language Supports
Launch X431 CRB5001 Battery Code Reader works on most vehicles after 1996 compliant with OBD2 protocols, more than 57 brands and over 10000+ cars, more car models will being continuously updated, supported Lifetime Free Upgrade, 4" LCD Color Touch Screen, 10 Languages menu options, you can easy to access the each of menu options, more faster and convenient.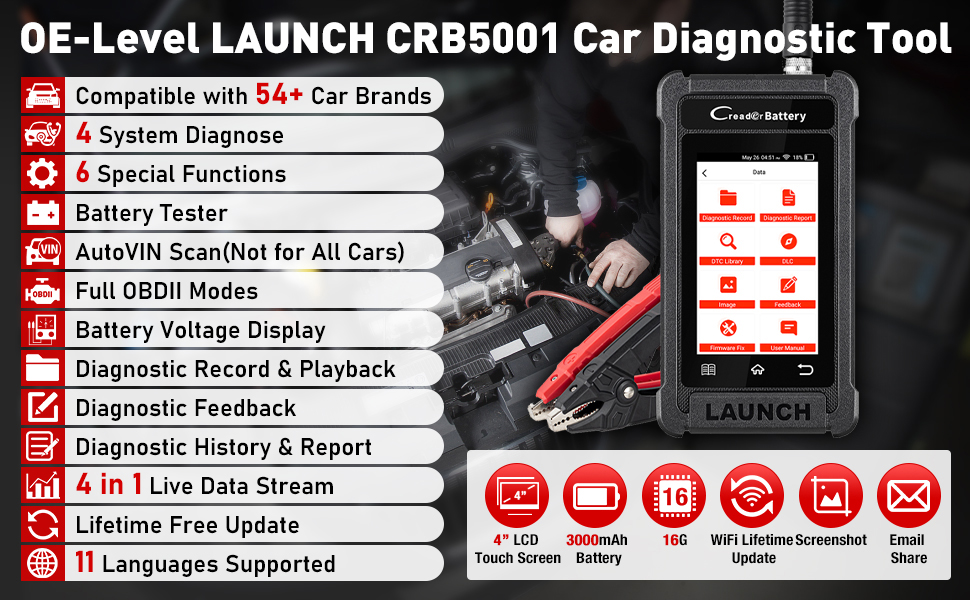 Battery Health Test
It is used to analyze the health status of the automobile battery, calculate the actual cold starting ability of the battery, judge the aging degree of the battery, and provide reliable analysis basis for the test and maintenance of the battery.
Start System Test
It is mainly to detect and analyze the starting motor, detect the actual starting current and starting voltage required by the starting motor, so as to judge whether the starting motor is normal or not.
In & Out of Vehicle
Launch CRB5001 battery tester have 2 test methods. which can be more convenient and faster.

In Vehicle – no need to remove the battery. You can directly check the vehicle battery under the hood.

Out of Vehicle – can test the independent battery.
Charging Health Test
This function mainly detects and analyzes the vehicle charging system, including generator, rectifier, rectifier diode, etc. Through this test, we can know that the output voltage of the generator, the rectifier diode, and the charging current is normal or not respectively.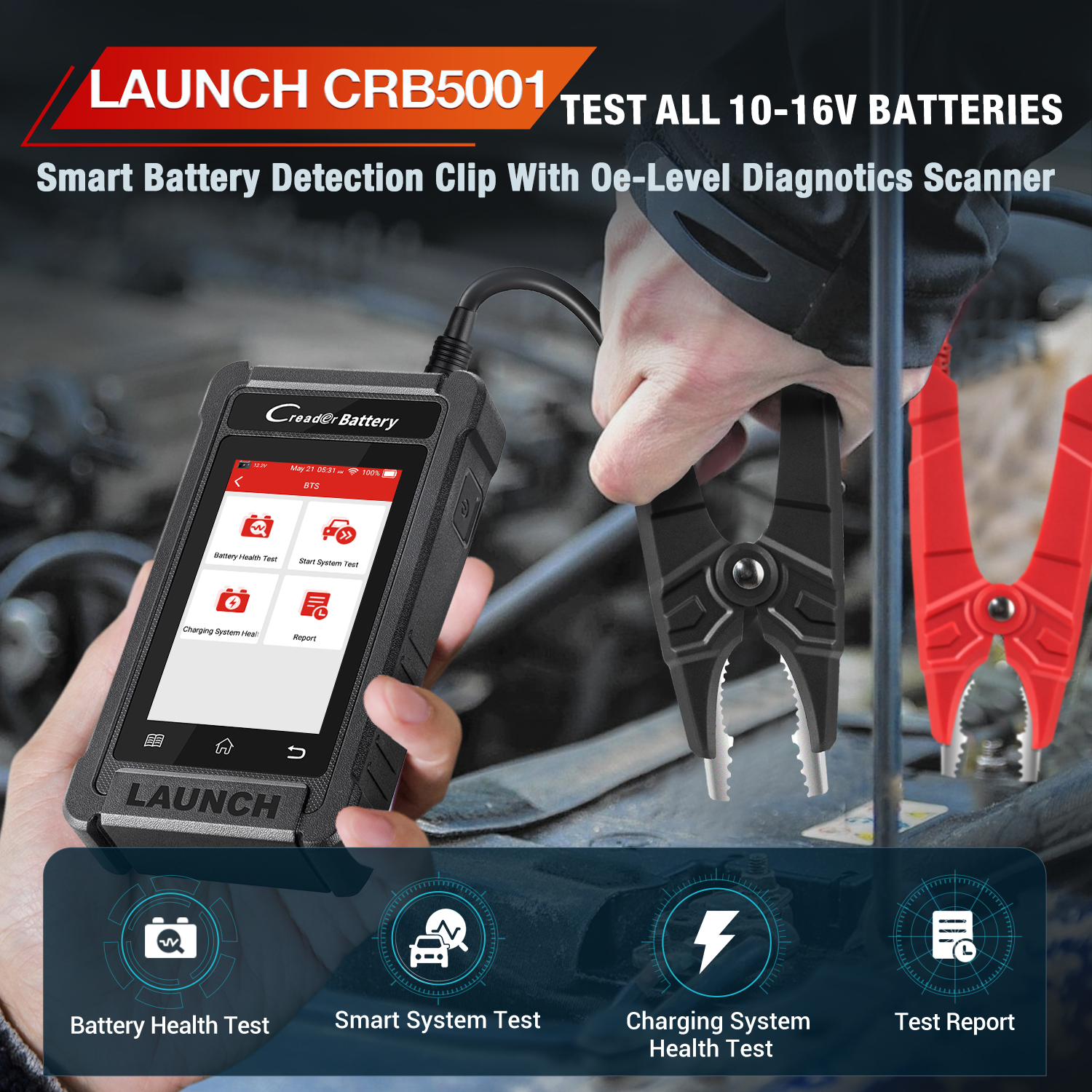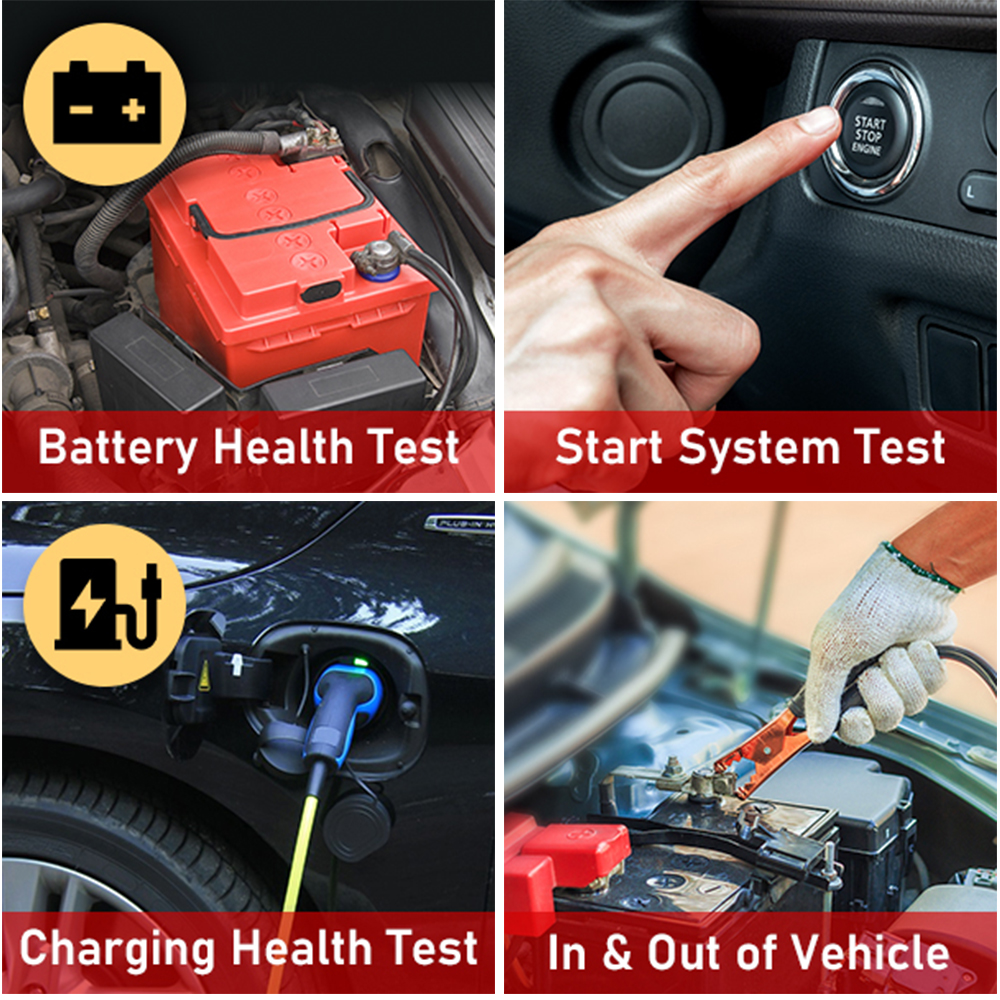 Support common battery types,
Such as ordinary battery (Regular Flooded), AMG start-stop battery (AGM Plate), GEL start-stop battery (GEL), EFP start-stop battery (EFP)

Standard --- Description --- (Testing Range )
CCA、BCI、CA、MCA、JIS、DIN、IEC、EN、SAE、GB

CCA --- Cold Cranking Amps, as specified by SAE. The most common rating for cranking batteries at 0°F (-18°C).--- (100-2000 )

CA --- Cranking Amps standard. The effective starting current value at 0°C (32°F). --- ( 100-2000 )

MCA --- Marine Cranking Amps standard. The effective starting current value at 0°C (32°F). --- (100-2000 )

JIS --- Japanese Industry Standard, shown on a battery as a combination of numbers and letters.--- ( 26A17--245H52 )

DIN --- Deutsche Industrie-Norm. --- ( 100-1400 )

IEC --- International Electro technical Commission. --- ( 100-1400 )

EN --- Europa-Norm --- ( 100-2000 )

SAE --- Society of Automotive Engineers --- ( 100-2000 )

BCI---American Battery Council International ( Publishes Automotive Battery Standards)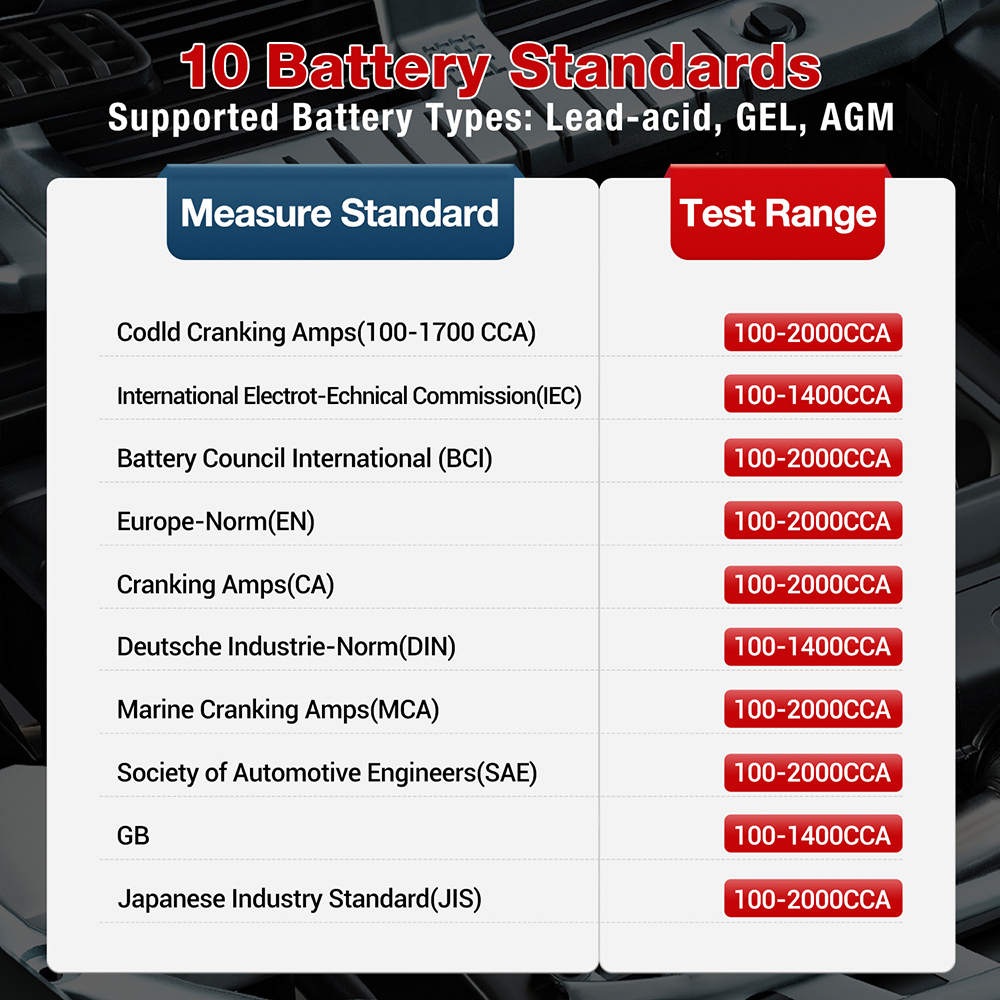 4 Majors System Diagnosis for Engine ABS SRS Airbag Transmission
1. Engine System
Launch CRB5001 scanner can give you a detailed understanding of the issue by reading engine parameters or displaying live data such as engine RPM, engine coolant temperature, air intake humidity, misfire data, intake manifold pressure, oil pressure, etc. And then clear the code and turn off the light. The scanner also can help detect the engine ignition, fuel injection, air and fuel ratio, and exhaust emission conditions in Engine system to enhance vehicle performance, save energy and reduce exhaust emission.
2. Anti-Lock Braking System (ABS System)
] Launch CRB5001 OBD2 diagnostic scanner can help you to check the ABS system, read DTCs data flow in the ABS system, and tell you whether the parameters such as front-wheel speed, rear-wheel speed, lateral acceleration, brake pressure, steering angle sensors, etc. are normal. Performs various tests to check the operating conditions of ABS System, and turn off the warning light. And then guide you to change damaged parts, and eventually clear the codes, avoiding life-endangering damages.
3. Supplemental Restraint System (SRS System)
Safety restraint system, is made up of impact sensors, a control module, and the airbags themselves, Launch CRB5001 car diagnostic tool can address the SRS-related problems such as seat occupancy sensor, airbags, airbag sensor, etc. And present the health status of the SRS system via live data stream, read and clear fault codes, turn off warning light of airbag, avoid potential risks as well as ensure your driving safety and engine work properly.
4. For Transmission
With the help of the Launch CRB5001 OBD2 scan tool, you can Read and clear codes and view live data in transmission systems, keeps the transmission systems output optimally adapted to the speed and load. Retrieve the error information from Automatic Transmission (AT) which is a type of motor vehicle transmission that can automatically change gear ratios as the vehicle moves, freeing the driver from having to shift gears manually.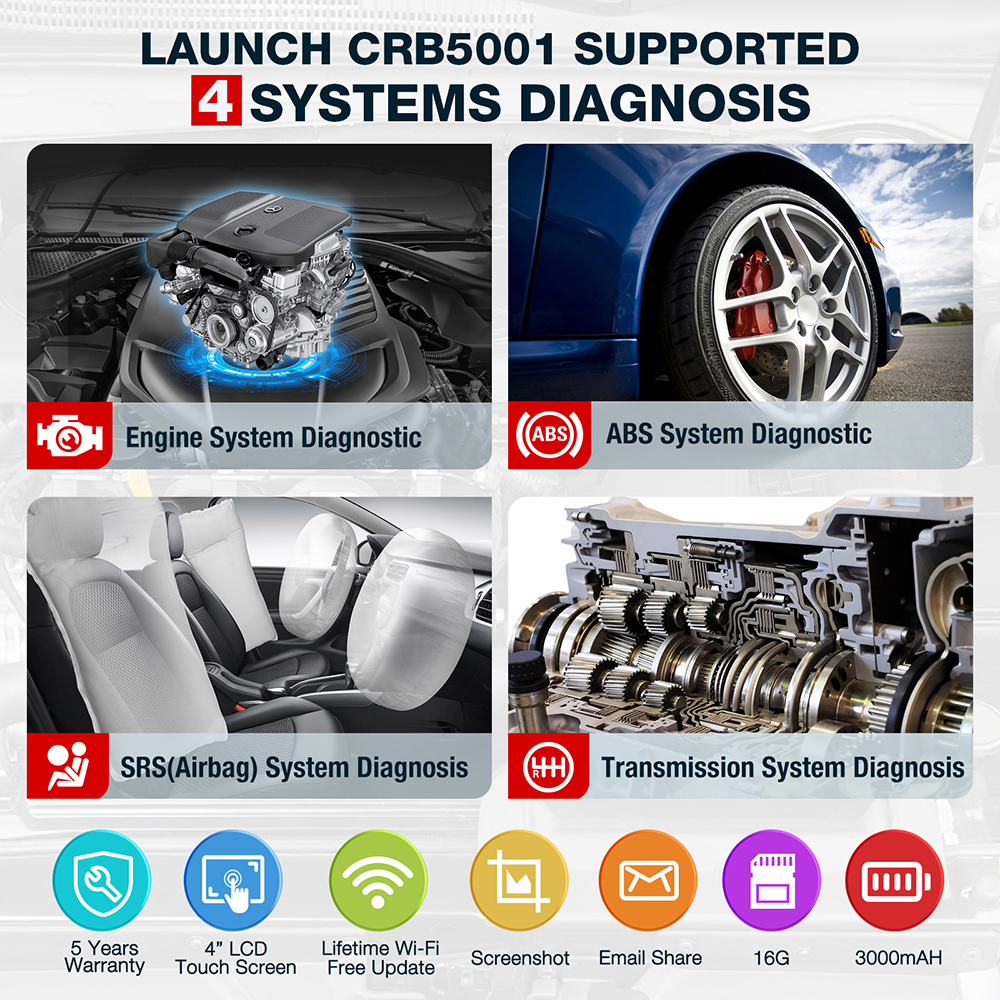 Support 6 Common Reset Function
1. Oil Lamp Reset function
this obd2 scanner allows you to perform reset for a new calculation of Engine Oil Life system once changed the oil, clear the oil light .
2. ABS Bleeding
Help exhaust the air after repair the ABS pump system.
3. Throttle Position Reset
Initialize the throttle actuators to the default state.
4. Brake Reset
It is important in the maintenance of electronic braking system's safety and efficiency.
5. Battery Reset
Register the battery after replacement.
6. TPMS Reset
Makes sense in displaying sensor IDs from the vehicle's ECU, inputting TPMS sensor replacement IDs and testing sensors.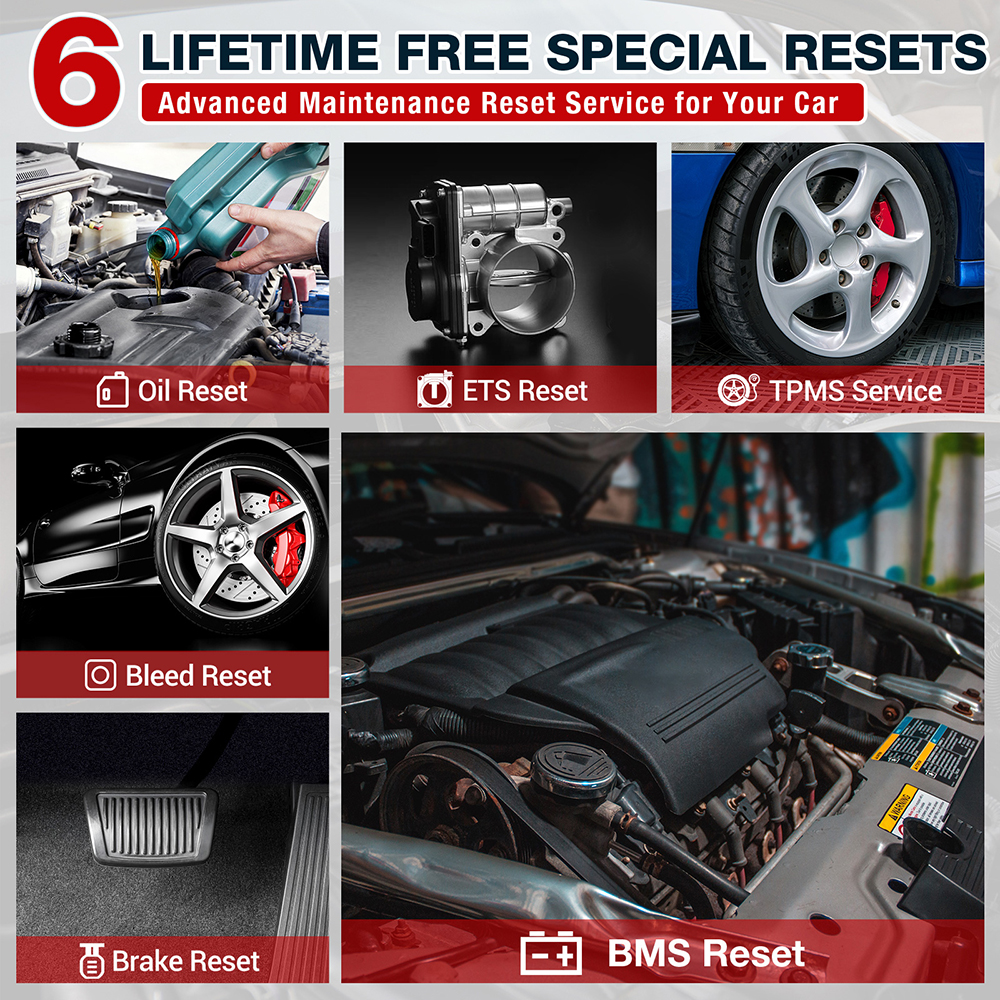 Support full OBD function.
1. Reading Codes: Show the detailed description of the Diagnostic Trouble Code (DTCs)

2. Erasing Codes & Reset: Turns off Check Engine Light (MIL), clears codes and resets monitors.

3. Data Stream: Reads and displays live ECU/PCM data stream, plotting functions graphically and stores freeze frame data.

4. I/M Readiness Status: Shows whether the various emissions-related systems on the vehicle are operating properly and are ready for inspection and maintenance testing.

5. Read Live Data Stream: Show the information of continuous data stream from a vehicle in live graphic display.(3 data stream display modes available: figure/value/4 data stream in one graph)

6. View Freeze Frame Data: Check the certain vehicle conditions which are recorded by the on-board computer at the time the emission-related fault occurs.

7. O2 Sensor Test: Allows retrieval and viewing of O2 sensor monitor test results for the most recently performed tests from the vehicle's on-board computer.

8. On-Board Monitor Test: Retrieves and displays test results for emission-related powertrain components and systems.

9. Read Vehicle Information: Display the information such as VIN (Vehicle Identification Number), CID (Calibration ID) and CVN (Calibration verification number), etc.

10. Component Test: Certain vehicle components can be actuated by commands sent from the scanner to test their operability.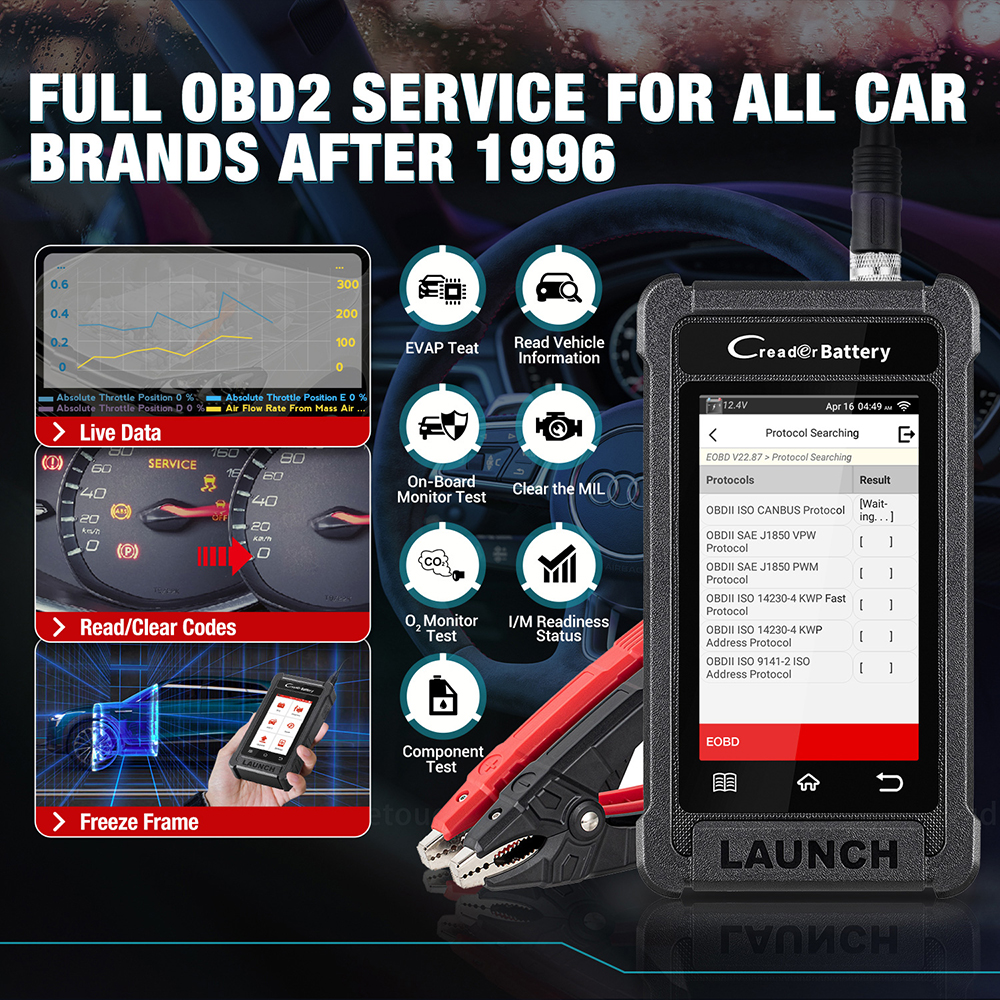 54+ Car Brands Over 5000+ Vehicles
For AUDI , For AUSTHOLDEN , For AUTOSEARCH , For BENZ
,For BMW , For CHRYSLER , For CITROEN , For DAEWOO , For DEMO , For EOBD2 , For FIAT , For GM , For HONDA , For HYUNDAI
,For JPISUZU ,For KIA , For LANDROVER , For MAZDA , For MITSUBISHI , For NISSAN , For OPEL , For PEUGEOT ,For PORSCHE, For RENAULT, For SAAB , For SEAT , For SKODA , For SMART , For SPRINTER , For SUBARU , For SUZUKI , For TOYOTA , For USAFORD , For VOLVO , For VW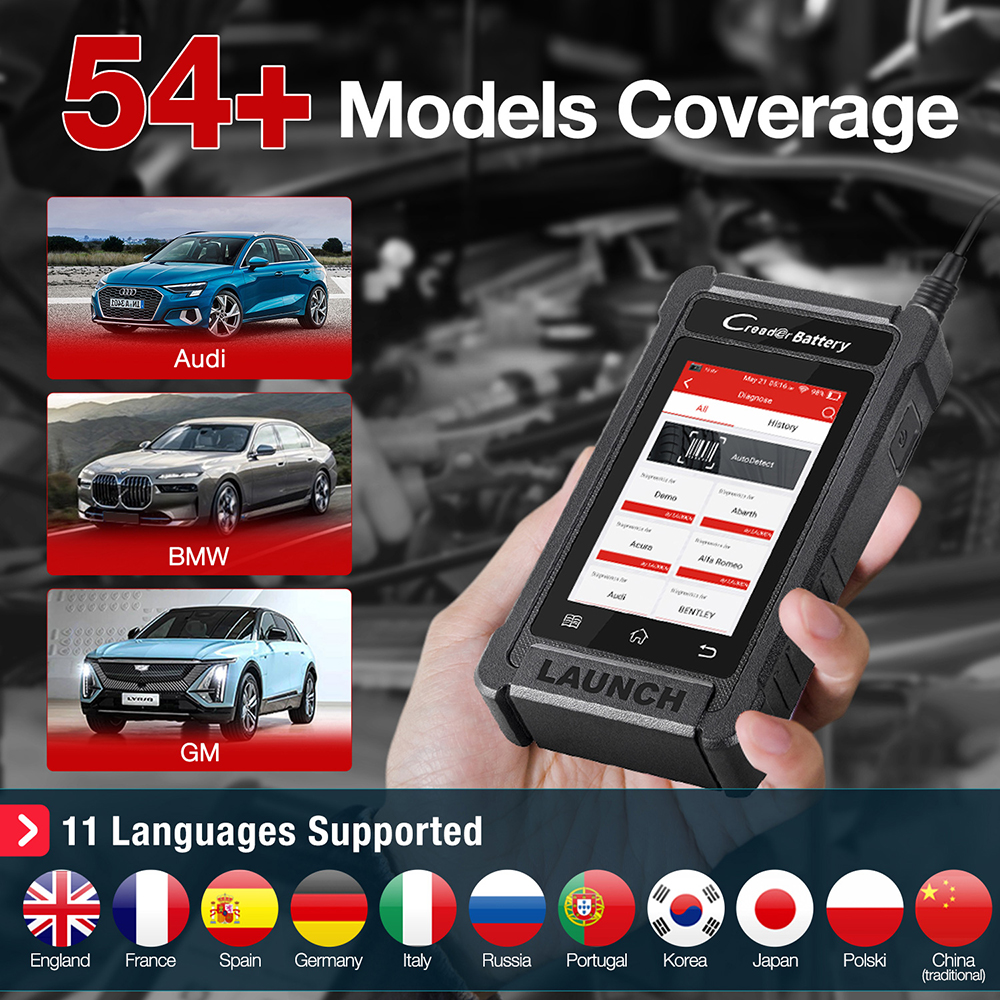 Auto VIN Scan
This option allows an automatic VIN detection when Launch CRB5001 Scan Tool is connected to the vehicle's DLC successfully, it can identify car brand, model, and year info to shorten the navigation processee, no longer waste time to manually inputting VIN code.
Diagnostic Record&Playback
This CRB5001 car diagnostic scanner records the every details of diagnostic session, provides a quick access to the tested vehicles, and enables users to choose to view the test report or resume from the last operation, without the necessity of starting from scratch, you can record/ review/ playback live data anytime.
4 in 1 Live Data Stream
There are 3 ways to view the data, you can choose the one that suits you best. Value–it is the default mode that displays the parameters in texts and shows them in list format. Graph–displays the parameters in waveform graphs. Combine–this is the most used in graph merge status for data comparison. In this case, different items are marked in different colors. (Combine up to 4 options)You can also record the data stream and playback the data.
[Diagnostic Report] Once the diagnostic process is successfully finished, a diagnostic report will be automatically generated and sent to your mailbox. You can download it, and then print it to share it with others.
Email Report Share & Print
ALL MODULE Diagnose automatic CRB5001 scanning tool enables diagnostic technicians to generate diagnostic reports before and after car diagnosis and repair service, so that the diagnostic reports can be printed out or sent to customers through the Internet (email) and compared or shared with customers.
[DCT Lookup] DTC Lookup is used to search for definitions of DTCs stored in the DTC libraryand for code breaker information, and Code Breaker is used to provide descriptions of DTCs and helpful tips to deal with DTCs.It is useful for technicians to find the root cause of trouble code faster, saving diagnosis and repair time.
Online Diagnostic Feedback
LAUNCH TECH's engineers will help you troubleshoot problems. Customized exclusive beta version software for your car can be obtained here.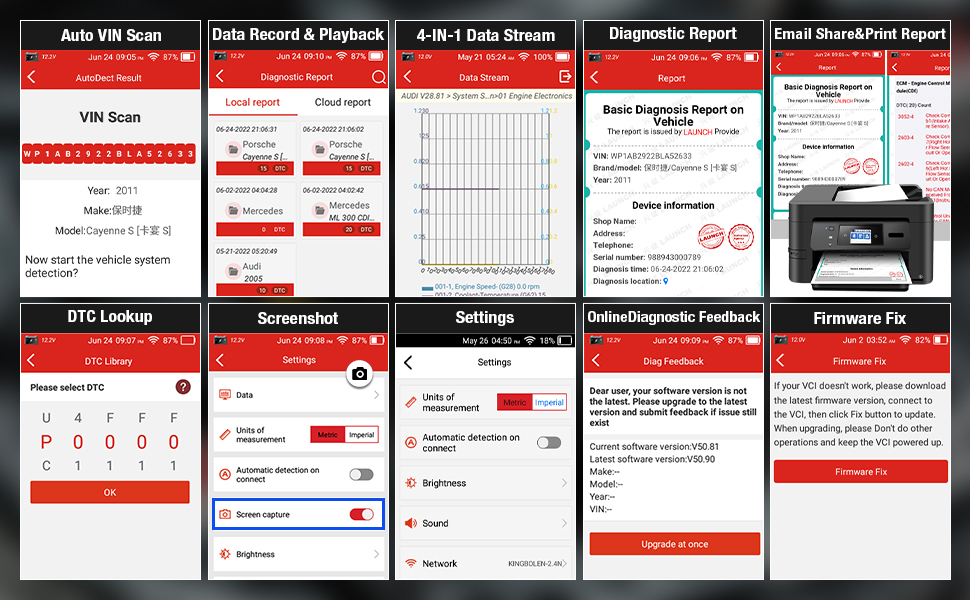 Technical Detailed
• Screen Size:4" Touch Screen
• Resolution:480*800 pixels
• Battery Capacity:3000mAh
• CPU: 4-core 1.3GHz processor
• RAM: 1GB
• ROM: 16GB
• WiFi: 802.11b/g/n 2.4GHz
• USB: TYPE-C
• OBD II Input voltage range: 9~18V
• Power up via: DC 5V data cable or Diagnostic cable through connection to vehicle's DLC
• Working Temperature: -10℃ to 45℃ (14℉ to 113 ℉)
• Storage Temperature: -20℃ to 70℃ (-4℉ to 158 ℉)
Packing List
1.LAUNCH Creader Battery 5001 Tool
2.Diagnostic Cable
3.Battery Clamps Cable
4.Data Cable
5.User Manual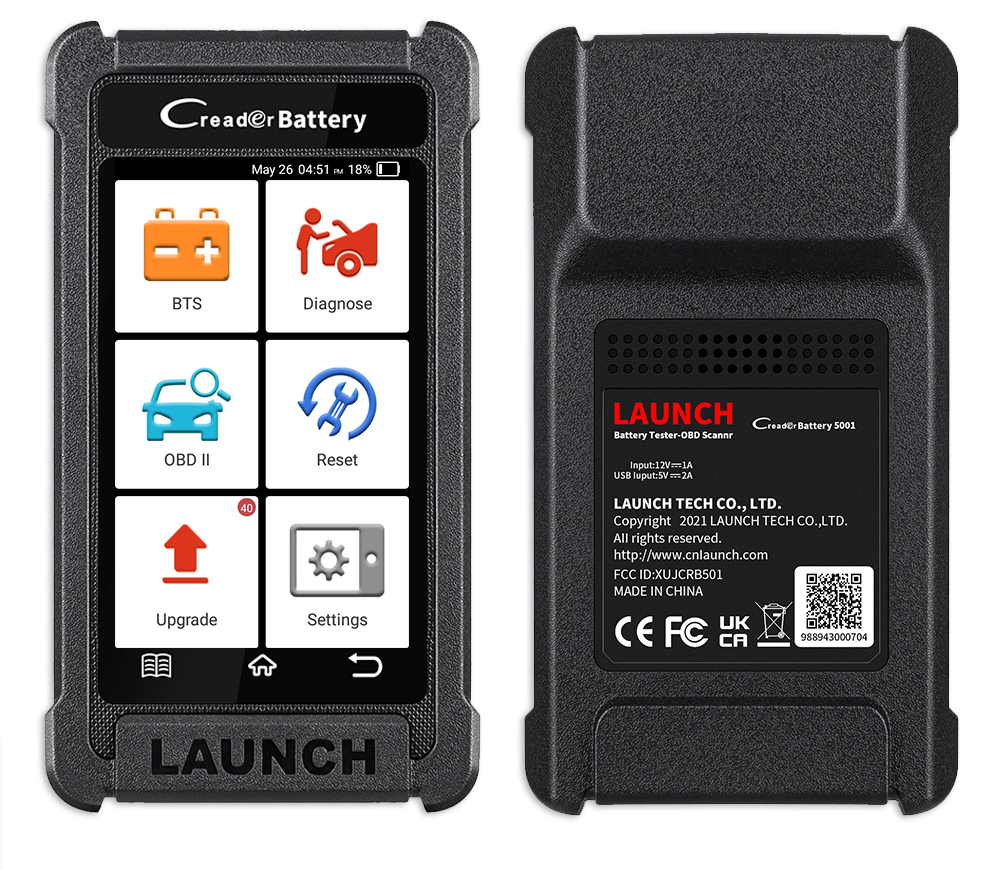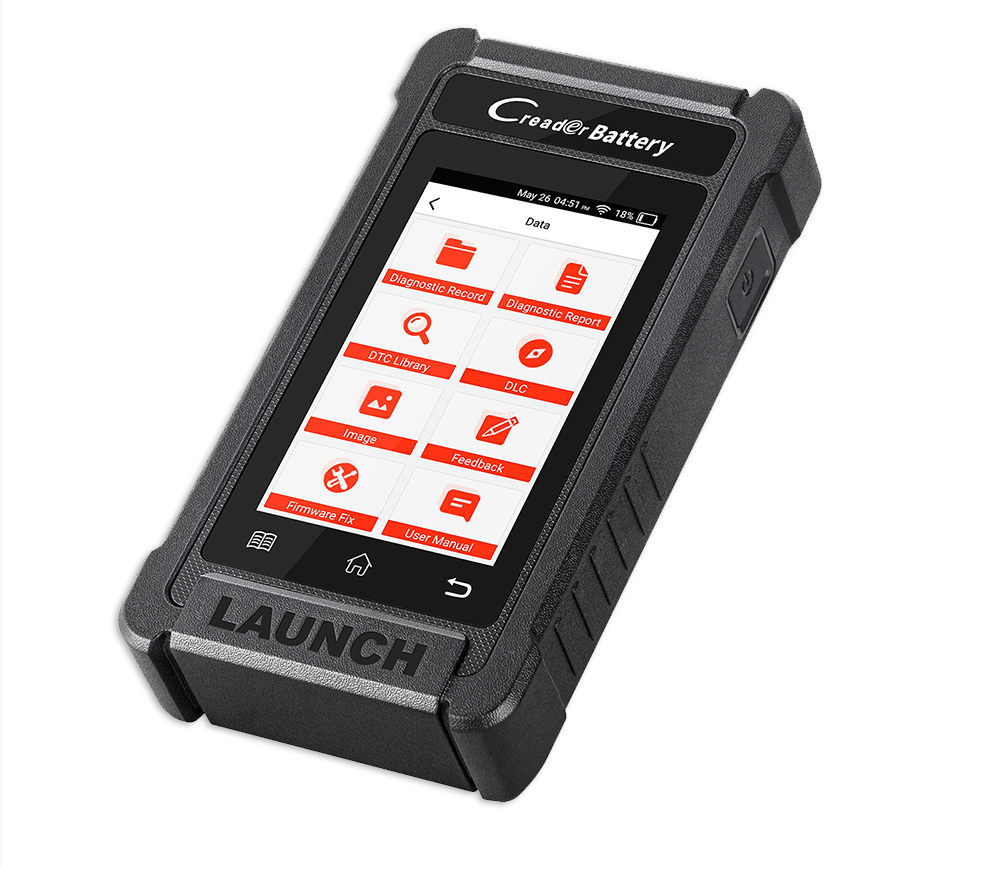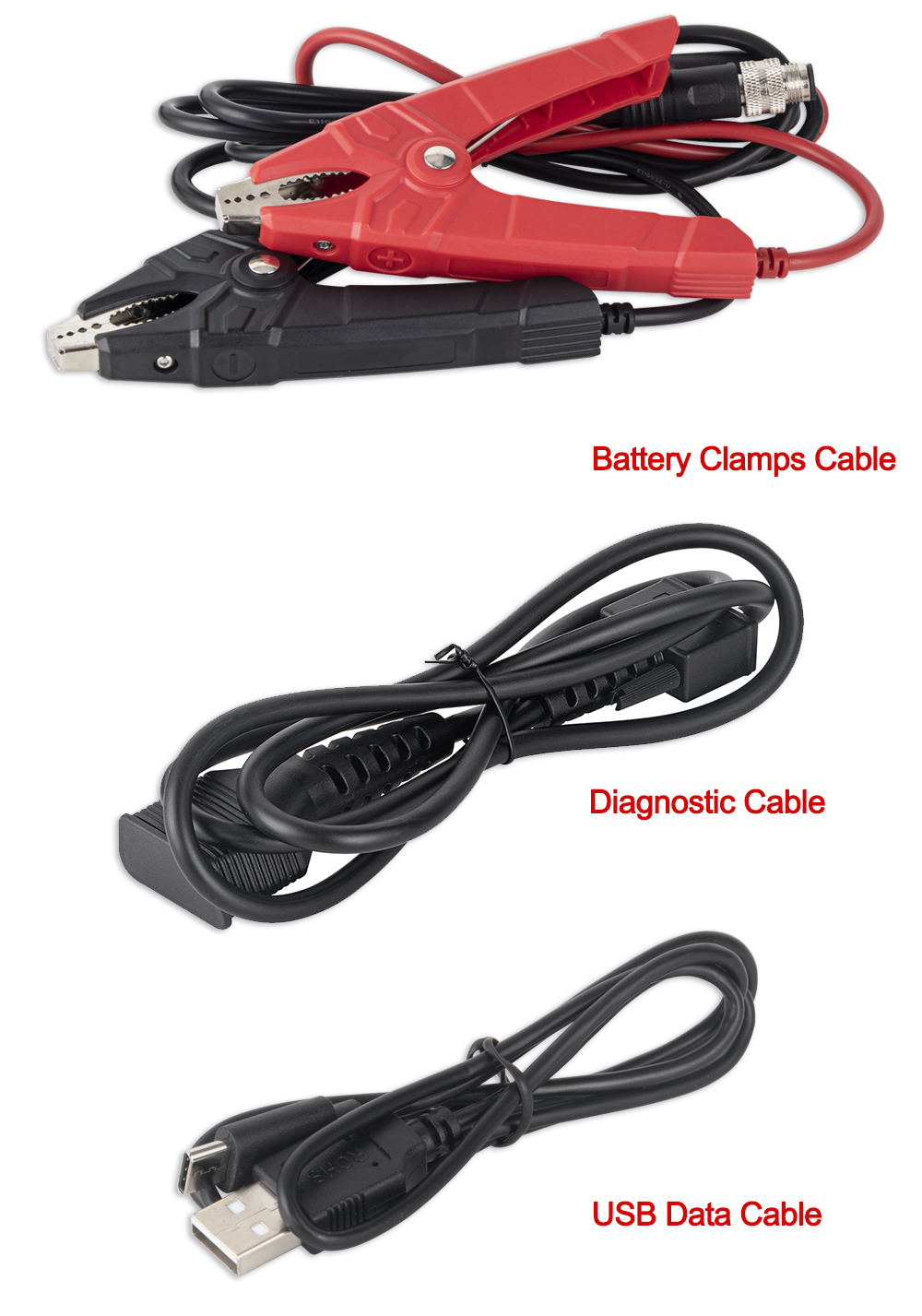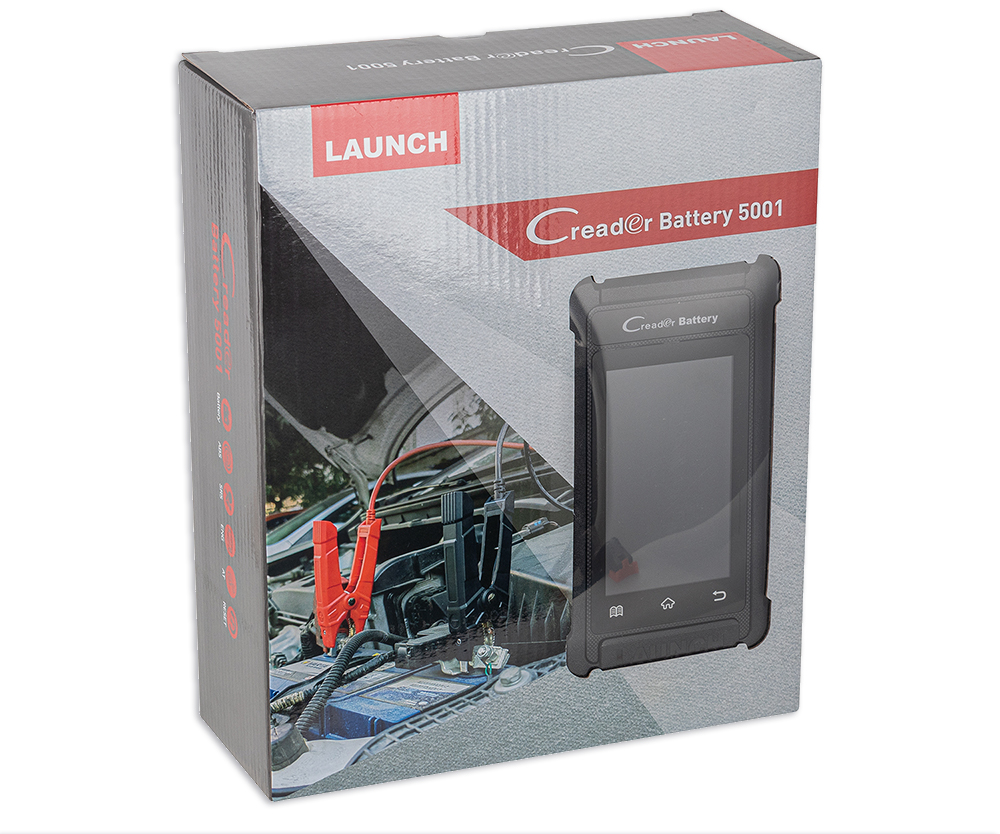 When you order from launchx431.net, you will receive a confirmation email. Once your order is shipped, you will be emailed the tracking information for your order's shipment. You can choose your preferred shipping method on the Order Information page during the checkout process.
The total time it takes to receive your order is shown below:

The total delivery time is calculated from the time your order is placed until the time it is delivered to you. Total delivery time is broken down into processing time and shipping time.
Processing time: The time it takes to prepare your item(s) to ship from our warehouse. This includes preparing your items, performing quality checks, and packing for shipment.
Shipping time: The time for your item(s) to tarvel from our warehouse to your destination.
Shipping from your local warehouse is significantly faster. Some charges may apply.

In addition, the transit time depends on where you're located and where your package comes from. If you want to know more information, please contact the customer service. We will settle your problem as soon as possible. Enjoy shopping!