LAUNCH CRP919X BT Car Diagnostic Tool DBScar VII VCI Auto OBD OBD2 Scanner Active Test ECU Coding CANFD DOIP 31+ Reset Services
Looking for help? or Get More Discount
Please contact WhatsApp:
+1 937 888 0032
Product Description
[EU & UK Version] LAUNCH CRP919X BT Car Diagnostic Tool DBScar VII VCI Auto OBD OBD2 Scanner Active Test ECU Coding CANFD DOIP 31+ Reset Services 

2023 Newest LAUNCH scan tool CRP919X BT loads super Android10.0 OS & 3+32GB memory, which can run faster vehicle diagnostics than ever. LAUNCH CRP919X BT is an upgraded version of CRP919X.
LAUNCH CRP919X BT can connect car via bluetooth with added added DBScar VII VCI. LAUNCH scan tool CRP919X BT has the same function as CRP919E BT, but CRP919X BT can be shipped from the US/UK/EU warehouse.
LAUNCH CRP919X BT Highlights:

1. Connect car via bluetooth with DBScar VII VCI.
2. Support CANFD and DOIP new protocols car.
3. Added Guide function of Audi, BMW.
4. More powerful configuration: 7'inch touch screen + Android 10.0 operating system, 4GB RAM + 64GB ROM Large storage and equipped with a 6300mAh high endurance battery, making diagnosis faster, more stable, and more durable
5. OE-Level Full system diagnose
6. ECU Coding + Active Test (Bi-Direction Control)
7. 31+ Reset Service , Keep Increasing
8. Auto VIN Scan
9. Exetend to work with FCA account (optional)
10. 23 language support: Italian, English, German, Japanese, Russian, French, Spanish, Portuguese, Polish, Turkish, Dutch, Greek, Hungarian, Arabic, Danish, Korean, Persian, Serbian, Finnish, Swedish, Czech, Simplified Chinese, chinese traditional
Notice:
UK/EU Version for UK/EU Countries customers, Global Version for Customers outside the UK and EU countries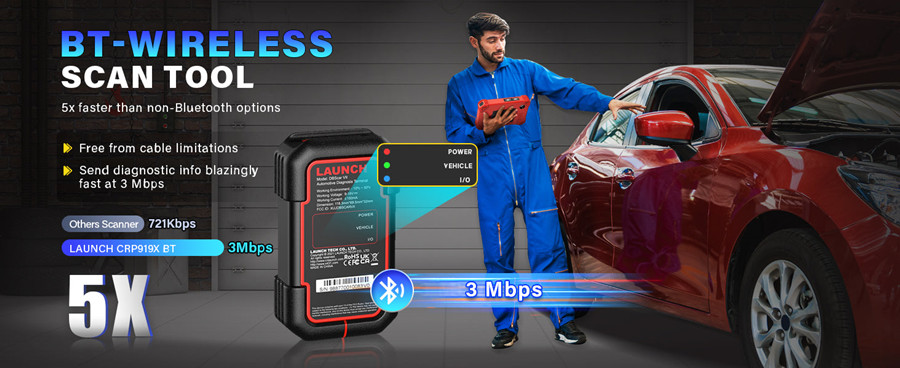 LAUNCH CRP919X BT Functions:
Support automatic VIN code identification
OE- Level Full System Diagnosis
As an OE level automotive diagnostic tool, LAUNCH CRP919E can access most car ECUs to read, clear codes, retrieve live data, freeze frame, ECU information and perform active tests, matching, adaptation, turn off warning lights, reset monitors. Full range car models and full car system diagnose make it a professional automotive diagnostic tool.
Include : ABS System, Engine System, SAS System , TPMS System , IMMO System , Battery System ,Oil Service System , SRS System ,DPF System ,Air Conditioning System,Transmission System, etc...
Brief introduction of its capabilities in full systems diagnostic as follows:
1. For Engine System:  help detect the engine ignition, fuel injection, air and fuel ratio, and exhaust emission conditions in Engine system to enhance vehicle performance, save energy and reduce exhaust emission.
2. For Transmission: It makes great sense in the safety driving when your car is slipping or difficult to shift, this diagnostic tool can figure the problems out via reading codes in the Transmission system, or check the health status via live data viewing.
3. For ABS System: Diagnosing an ABS problem should always start with a visual inspection of all brake components, next you will need to retrieve ABS codes to tell you where the problem is, and this is what this diagnostic does for you.
4. For SRS System: SRS, safety restraint system, is made up of impact sensors, a control module, and the airbags themselves, and this diagnostic tool can detect every electronic parameter to check its health status.
5. To diagnose Brake System if you feel the brake pedal is mushy and notice unusual odor or noise, etc. A properly operating brake system is critical to ensure safe vehicle control and operation;
6. To diagnose Emission System if the system is affected by vehicle age or poor quality fuel. A good emission system reduces harmful gases to a large degree and protects you from being fined;
7. To diagnose Fuel system if vehicle won't start or "Check Engine" light is illuminated. Check car's fuel system regularly ensures the best performance of your car with the lowest emissions;
8. To diagnose Transmission if your car is slipping or difficult to shift. The system plays an important part in the overall performance of your car;
9. To diagnose Wiper System if you observe chattering or streaking wiper. If the car is not regularly checked, the accident might happen because you can't see clearly;
10. To diagnose Light System if you see rapid signal blinking or dimming lights. And many more ....
Supports CANFD and DIOP protocol now , it supports For GM after 2020 and other New cars !
it is the only product in this price range that is compatible with CAN-FD protocol and supports the latest For GM vehicles manufactured after 2020. Adopts advanced CRC algorithms to accommodate more data from 8 to 64 bytes in the CAN frame, which runs faster than other products and reduces the risk of undetected errors to greatly enhance the user experience.
Supports For Chevrolet Onix 2020-2021 year 
Supports For Chevrolet Tracker 2020 year 
Supports For Chevrolet Suburban 2021 year 
Supports For Chevrolet Tahoe 2021 year 
Supports For Buick
Supports For Cadillac Escalade 2021 year 
Supports For Cadillac Escalade 2021 year 
Supports For GMC Yukon 2021 year 
Supports For GMC Yukon XL 2021 year
Supports For Holden
Supports For DAEWOO
Supports For Alpheon
Supports For Ravon 
Supports For Pontiac 
Supports For Saturn 
Supports For Hummer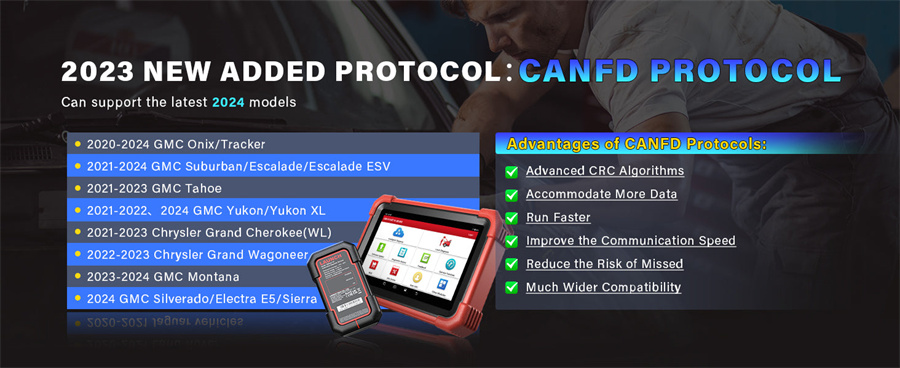 DoIP
With Diagnostics over DoIP, diagnostics introduced over UDS are used over TCP/IP and Ethernet. This enables much higher data rates than with CAN. That makes LAUNCH CRP919E save both in terms of time and expenses in the case of complex diagnostic tasks and flash applications. Compatible with BMW (F&G chassis), Volvo models (2018 later), Land Rover & Jaguar models (2017 later).
Bi-directional Control (Active Test)
Actuate solenoids and actuators for active testing, send commands to systems/components to test their working status, without using the vehicle controls.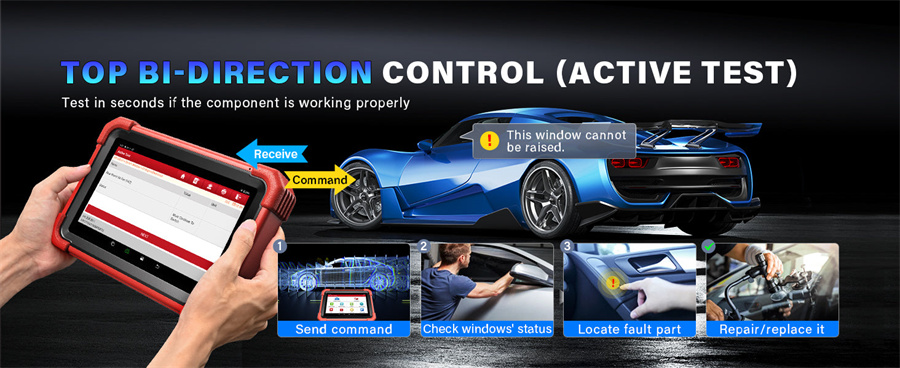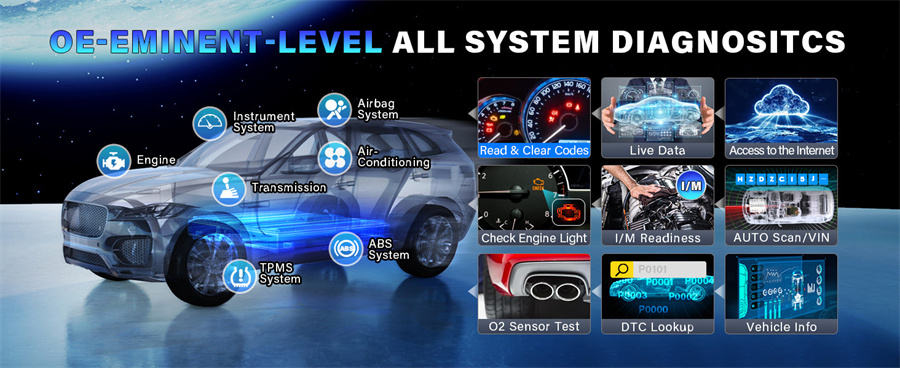 ECU Coding
The advanced coding function is used to re-flash the vehicle control modules, which allows you to update the computer software on the vehicle to the latest version, as well as to reprogram adaptive data for certain components after making repairs or replacements, providing solutions for the issues of drivability, fuel efficiency, power loss, fault codes, durability of mechanical parts etc. But please note, ecu coding are NOT universal for all vehicles, please check compatibility with VIN number before purchase.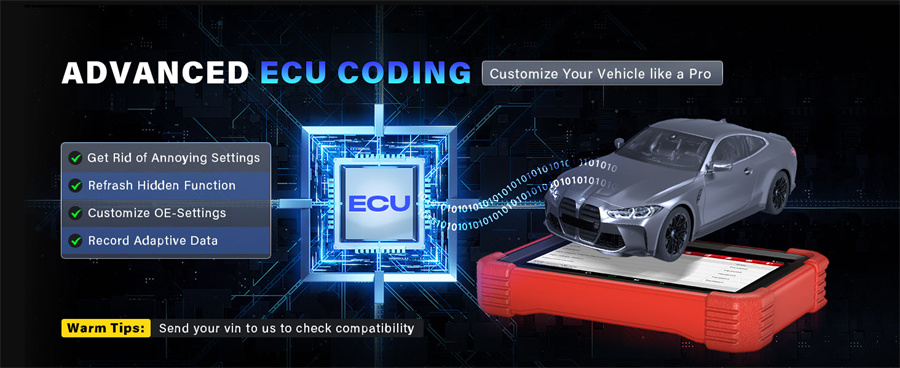 31+ commonly used repair & maintenance services, keep creasing
1.ABS Bleeding
 When the ABS contains air, the ABS bleeding function must be performed to bleed the brake system to restore ABS brake sensitivity.
2.TPMS Reset
When due to the tire pressure is too low,tire leaks,tire pressure monitoring device is replaced or installed,tire is replaced and tire pressure sensor is damaged,The tire pressure resetting function must be performed to reset tire pressure and turn off the tire pressure MIL.
3.Oil Lamp Reset
Allows you to perform reset for a new calculation of Engine Oil life system once changed the oil.
4. Electronic Throttle Sensor Reset
To utilize the car decoder to initialize the throttle actuator so that the learning value of the ECU returns to the initial state.
5.Injector Coding
After the ECU or injector is replaced, injector code of each cylinder must be confirmed or re-coded so that the cylinder can better identify injectors to accurately control fuel injection.
6. SAS Reset
It helps clear the faulty steering angle sensor memories to reset the steering angle and plays an important role in the steering angle sensor calibration.
7.Brake-pad Reset
To deactivating and activate the brake control systems, assist with brake fluid control, open and close brake pads, and set brakes after disc or pad replacement.
8.Gear Learning
Perform gear learning for the car when the engine ECU, the crankshaft position sensor, or the crankshaft flywheel is replaced.
9.IMMO Service
To prevent the car being used by unauthorized keys, the anti-theft key matching function must be performed so that the immobilizer control system on the car identifies and authorizes remote control keys to normally use the car. 
10.Battery Matching
Enables you to perform resetting operation on the monitoring unit of battery,in which the original low battery fault information will be cleared.
11.DPF Regeneration
It is used to clear PM (Particulate Matter) from the DPF filter through continuous combustion oxidation mode. Specially works for Diesel Particulate Filter system with DPF.
12.EGR Adaption
This function is used to learn the EGR (Exhaust Gas Recirculation ) valve after it is clean or replaced.
13.Suspension Matching
 When replacing the body height sensor in the air suspension system, or control module or when the vehicle level is incorrect, this function can adjust the body height sensor for level calibration.
14.NOx Sensor Reset
If the NOx fault is re-initialized and the NOx catalytic converter is replaced, it is necessary to reset the catalytic converter learned value stored in the engine ECU.
15.Tyre Reset
This function is used to set the size parameters of the modified or replaced tire.
16.Windows Calibration
This feature is designed to perform door window matching to recover ECU initial memory.
17.Stop-start Reset
This function is used to open or close the automatic Start/Stop function via setting the hidden function in ECU (The precondition is the vehicle equipped with hidden function and hardware support)
18. AC Initialization
AC system relearn/initialization must be performed when the vehicle AC ECU or actuator is replaced or the ECU memory is lost.
19. AdBlue Reset
After the diesel exhaust treatment fluid (car urea) is replaced or filled up, the urea reset operation is required.
20. AFS Headlamp Reset
This function enables you to initialize the adaptive headlamp system.
21. A/F Reset
This function is applied to set or learn air/fuel rate parameters.
22. Gearbox Reset
This function enables you to complete the gearbox self-learning to improve gear shifting quality 
23. Coolant Bleeding
Use this function to activate the electronic water pump before venting the cooling system.
24. Transport Reset
To lower vehicle power consumption, user may perform the following operations: limit vehicle speed, not wake up the network for door open and disable remote key, etc. In this case, deactivating the transport mode is needed to recover the vehicle being normal.
25. Seat Calibration
This function is applied to match the seats with memory function that are replaced and repaired.
26. High Voltage Battery Detection
This function is used for high voltage battery diagnosis and status information detection.
27. Sunroof Initialization
This function enables you to set the sunroof lock off, closed when it rains, sliding / tilting sunroof memory function, temperature threshold outside the car ,etc.
28. Engine Power Balance Monitoring
This function is used to monitor crankshaft acceleration in the power stroke of each cylinder, to determine the relative power provided by each cylinder.
29. Language Change
This function is used to change system language of vehicle center console.note:you need to have language pack to do language change
30. Gas Particulate Filter (GPF) Regeneration
This function is used to perform the GPF replacement or regeneration after the fuel consumption is increased and engine output power is reduced resulting from a long time service of the GPF.
31. Intelligent Cruise Control System Reset
This function is used to matching the intelligent cruise control module after it is replaced or repaired.
(Note: Available maintenance functions vary depending on the vehicle make, year, and model.)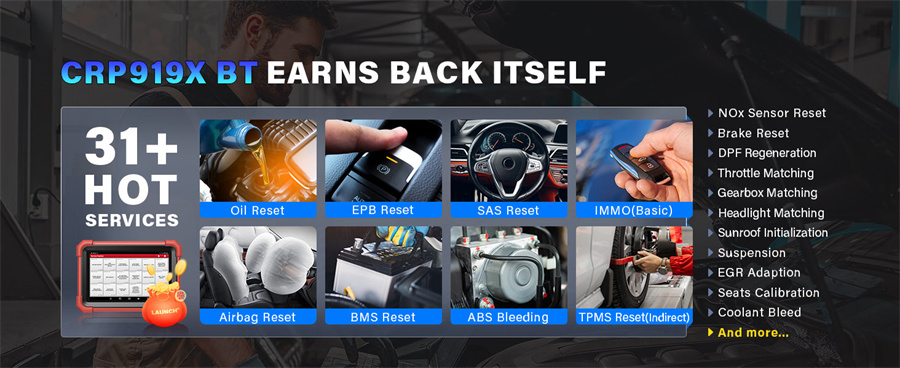 Share Report via Wi-Fi & print Report
Rather than taking the additional hassle, with this LAUNCH scanner, you would easily be able to share the diagnostics report to your clients or technicians via Wi-Fi ( email address ) . They would take a look at the full, clear, and accurate diagnostic report, and then understand what would need to be done. No more Googling unreliable fixes that would waste your energy.
Over 115 Car Brands ,10000+ Models
- American cars
for BUICK, for CADILLAC, for CHEVROLET, for CHRYSLER, for DODGE, for FIAT(BRAZIL), for FORD, for GM, for JEEP, for LINCOLI, for GM(BRAZIL)
- European car
, for ABARTH, for ALFA ROMEO, for AUDI, for BENTLEY, for BMW, for BUGATTI, for CITROEN, for DACIA, for IZH, for EURO FORD, for FERRARI, for FIAT, for GAZ, for OPEL(SOUTHAFRICA), for IVECO, for JAGUAR, for LAMBORGHINI, for LANCIA, for LANDROVE, for MASERATI, for MAYBACH, for MERCEDES, for MINI, for OPEL, for PEUGEOT, for PORSCHE, for RENAULT, for ROLLSROYCE, for ROVER, for SAAB, for SEAT, for SKODA, for SMART, for SPRINTER, for VAUXHALL, for VAZ, for VOLVO, for VW, for ASTONMARTIN, for VW_CV
- Asian cars:
for CURA, for DAEWOO, for DAIHATSU, for HOLDEN(AUSTRALIA), for HONDA, for HYUNDAI, for INFINITI, for ISUZU, for KIA, for LEXUS, for LUXGEN, for MAHINDRA(INDIAN), for MARUTI(INDIAN), for MAZDA, for MITSUBISHI, for NISSAN, for GTR(NISSAN), for PERODUA, for SAMSUNG, for SSANGYONG, for SUBARU, for SUZUKI, for TATA(INDIAN, for TLISUZU, for TOYOTA
Product Specifications:
Operating system: Android 10.0
Processor: 2.0GHz, quad core
Memory: 4GB
Storage: 64GB
Display screen: 7-inch, LCD screen
Resolution: 1024 * 600
Camera: 8 megapixel rear mounted
Wi Fi: 2.4GHz
Battery: 6300mAh
Package Includes:
1pc x LAUNCH CRP919X BT EU & UK Version

 
When you order from launchx431.net, you will receive a confirmation email. Once your order is shipped, you will be emailed the tracking information for your order's shipment. You can choose your preferred shipping method on the Order Information page during the checkout process.
The total time it takes to receive your order is shown below:

The total delivery time is calculated from the time your order is placed until the time it is delivered to you. Total delivery time is broken down into processing time and shipping time.
Processing time: The time it takes to prepare your item(s) to ship from our warehouse. This includes preparing your items, performing quality checks, and packing for shipment.
Shipping time: The time for your item(s) to tarvel from our warehouse to your destination.
Shipping from your local warehouse is significantly faster. Some charges may apply.

In addition, the transit time depends on where you're located and where your package comes from. If you want to know more information, please contact the customer service. We will settle your problem as soon as possible. Enjoy shopping!