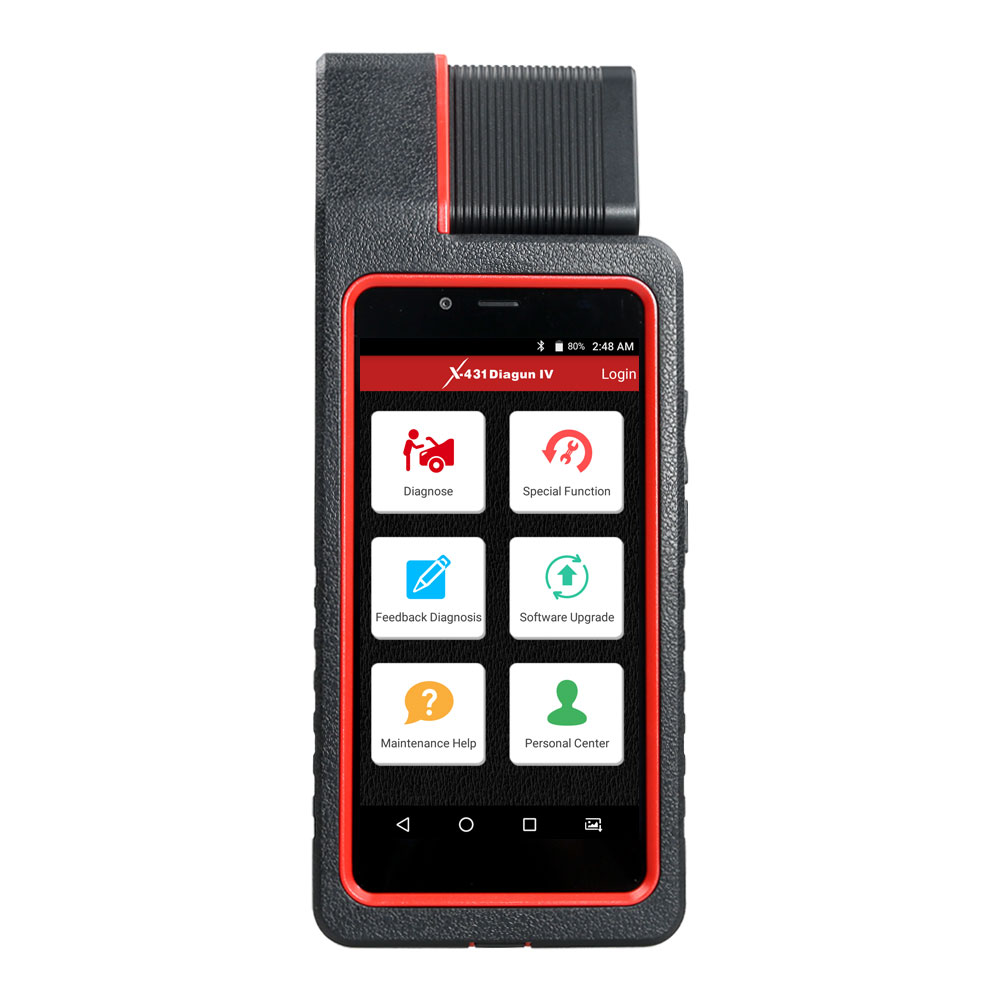 Launch X431 Diagun IV Powerful Diagnostic Tool with Full Connectors Free Update Online for 1 Years
Looking for help? or Get More Discount
Please contact WhatsApp:
+1 937 888 0032
Product Description
Launch X431 Diagun IV Powerful Diagnostic Tool with Full Connectors Free Update Online for 1 Years

Launch Diagun IV stopped production now, please click for latest X431 Diagun V

Launch X431 Diagun IV is an slim evolutionary vehicle diagnostic tool. Featuring a quad-core 1.1GHz processor, and a 5.5 inch capacitive screen, X-431 Diagun IV delivers diagnostic functionality which helps to diagnose vehicle issues more efficiently. Meanwhile, taking advantage of mobile internet, it integrates more application and service, such as creating maintenance database and case library, providing instant maintenance information, establishing public and private maintenance social circle etc. As a result, it builds a broad vehicle diagnostic community, which helps you share vehicle maintenance knowledge online, exchange vehicle maintenance experience online and provide vehicle maintenance related service support online. This will be another revolution raised by Launch in the vehicle diagnosis industry.

Top 8 Reason to choose Launch X431 Diagun IV:
1. Support Multi-languages, you can change the language by yourself: English,Spanish,French,Russian,Japanese,Arabic,Korean,Italian,German,Danish,polish,Finnish,Dutch,Czech,Portuguese,Swedish,Turkish,Greek,Hungarian,Romanian,Serbian
2. With Android 7.0 system, support one-click update
3. Handset, Easy to operate, avoid broken or lost bluetooth adpater.
4. SD Card storage: 16GB, big capacity, which can meet all your requirements
5. Add Special Function: Brake Reset,Oil Reset,SAS Reset,BAT.Reset,Bleeding,Elec.TH Tottle Rottle Rlrn, TPMS Reset, DPF REG.
6. 1 Years Free update online, after two year, the update fees is 459USD/year.
7. X431 diagun iv Original Bluetooth Distance: 10M (Without Obstacle)
8. Include
Launch X431 Full Connectors
in default Package, more convenient to use.
Launch X431 Diagun IV Function:
1. Full Diagnose Function:
Launch X431 diagun iv can diagnose the electronic control system covering Asian, European, American and China. Full range car models and full car system diagnose make it a professional automotive diagnostic tool.
Diagnosis functions include: Read DTCs, Clear DTCs, Read datastream, Special functions etc;
Bi-Directional/Active Test:
Support active test (Bi-directional control) to request information or command a module to perform specific tests and functions. such as turning the fuel pump on and off, cycling the a/c clutch on and off.
Key FOB Programming:
If you lost one key of car, launch x431 diagun iv can help you add a new one , but you need to get the PIN# of your car before you copy a key. NOTE: diagun iv can not reprogram.
ECU Coding:
LAUNCH diagun iv is equipped with advanced ECU coding function for addressing the following issues:
1. After you change the bad actuators or certain parts, you need to use this function to make a new code and recognize the new actuators.
2. ECU coding enables multiple car systems to recognize each other and then the actuators can start to work.
Note:
ECU Coding and Key FOB Programming are not universally compatible with all vehicles! Send us VIN number to check compatibility.
Launch X431 Diagun IV Special functions:
The Reset section is specially designed to provide you quick access to the vehicle systems for various scheduled service and maintenance performances.All resetting operations are driven by executive commands. Just by following the on-screen prompts to select appropriate execution options, input correct values or data, and perform necessary actions, the system will guide you through the complete performance.
The most commonly performed service functions contain:
1) Oil Reset Service:
Reset the oil life systems every time the oil and oil filter are changed
2) Steering Angle Calibration:
Perform steering angle sensor calibration and clear records .
3) Electronic Parking Brake Reset:
Deactivate and activate the brake control system, assist with brake fluid control, open and close brake pads, etc
4) Battery Register / Battery Maintenance:
Evaluate the battery charge state, monitor the closed-circuit current, register the battery replacement, etc .
5) ABS Bleeding:
When the ABS contains air, the ABS bleeding function must be performed to bleed the brake system to restore ABS brake sensitivity
6) Electronic Throttle Position Reset / Learn:
Initialize the throttle actuators so that the "learned" values stored on ECU are returned to the default state.
7) Diesel Particulate Filter (DPF) Regeneration:
Clear PM (Particulate Matter) from the DPF filter through continuous combustion oxidation mode to stabilize the filter performance .
8) Tire Pressure Monitor System Reset:
Tire pressure resetting is required to be performed after maintenance is performed .
9) Gear Learning:
Perform gear learning for the car when the engine ECU, the crankshaft position sensor, or the crankshaft flywheel is replaced
10) Immobilizer Matching:
Read pin code from vehicle security immo system,mainly used to disable the lost vehicle keys and program a new replacement key fob.
11) Fuel Injector Coding:
Code new injector numbers to replace the previous one when fitting the new injectors or after the replacement is completed.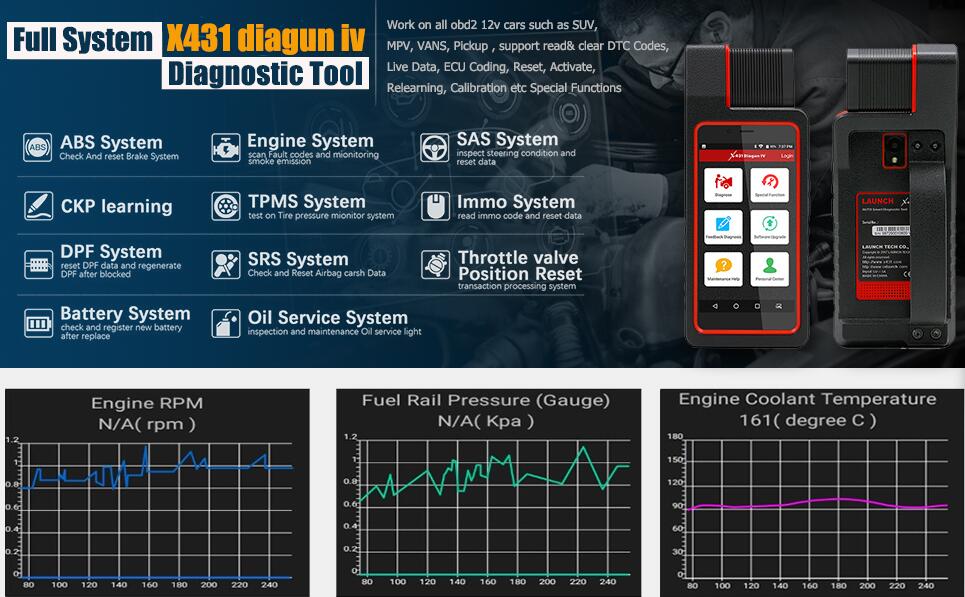 2. Connecting by Bluetooth:
Launch X431 diagun iv communication via Bluetooth, very easy to use.Launch X431 Diagun IV computer is specially designed for Android platform with clear and user-friendly interface (5.5 inch IPS screen with a resolution of 1280 x 720 pixels).X431 Diagun IV computer is equipped with an exclusive protection sleeve to prevent it from being damaged;
3. Browser:
Built-in Wi-Fi module makes surfing on the internet freely;
4.Settings:
To configure your personalized X-431 diagun iv through it;
5. Search:
Enables you to locate your target quickly and conveniently;
6. Email:
Allows you to send and receive email. External POP3 or IMAP email account for some common Web email service provider can be added;
7. File Manager:
You can manage the files or downloaded files stored in SD card efficiently;
8. Other Additional Functions:
Alarm, calendar and calculator etc.
9. Applications:
Other android based applications can be customized to install or uninstall.
10. Software Update:
Once a newer diagnostic software version is detected, a prompt message will pop up on the screen. To keep synchronized with the latest version, tap "Update now" to enter the update center.
Launch x431 Diagun IV VS. Launch X431 Diagun III
Item
Launch X431 Diagun IV
Launch X431 Diagun III
Main unit Image
Operating
Android 7.0
WIN CE 5.0
Processor
Quad core 1.1 GHz
400 MHz ARM9
Memory
1GB(Expandable up to 32 GB)
1G TF Card
Storage
16GB(Expandable up to 64 GB)
1GB
LCD Screen
5.5 inch IPS screen with a resolution of 1280*720
194*86*33MM,4.3 inch LCD with touch screen
Battery
2500mh rechargeable polymer lithium battery
3800 mAh
Official Website
www.dbscar.com
www.dbscar.com
Language
English,German,Japanese,Russian,French,Spanish
Arabic,Korean,Traditional Chinese...
English,Spanish,French,German,Japanese,
Korean,Russian,Arabic
Update
1 Years Free Update Online
1 Year Free Update
Bluetooth
Bluetooth 4.1.10m(Without Obstacle)
Theoretically 100m,suggest 15-20m
WiFi
Wi-Fi:WLAN 802.11 b/g/n
USB
Function
Full-diagnosis,Oil Reset Service,Steering Angle Calibration
Electronic Parking Brake Reset,Battery Register/Battery
Maintenance,ABS Bleeding/Electronic Throttle Position Reset
/Learn,Diesel Particulate Filter(DPF) Regeneration,Tire Pressure
Monitior System Reset
Full diagnostic(Read/erase DTCs,diaplay live
data stream etc)
Vehicle Model List
Abarth,Acura,Alfa,Romeo,Audi,Bentley,BMW,Buick,Cadillac,Chevrolet
Chrysler,Citroen,Dacia,Daewoo,Daihasu,Dodge,Fiat,Ford,GAZ,Geely,
GMC,Goinggreen,Greatwall,Holden,Honda,Hyundai,Infiniti,Isuzu,Jaguar
Jeep,Land Rover,Lexus,Mazda,Mercedes Benz,Mini,Mitsubishi,Nissan
Opel,Perodua,Peugeot,Range,Rover,Renault,Saab,Seat,Skoda,Smart,
Ssangyong,Subaru,Suzuki,Tata,Toyota,Vauxhall,VAZ,Volvo
Australia Ford,Brazil GM/Fiat
China:
Brilliance,BYD,Changan,ChangCheng,Changhe
Chery,GEELY,Gonow,HaFei,JAC,Jiangling,SGMW
Tianjin,FAW,Weili,Xiamen,Golden,XinKai,
ZhongShun,Zhongxing,ZOTYE
Europe:
Audi,Benz,BMW,Citroen,Dacia,Ford,Fiat,Jaguar,
Lancia,Land Rover,Opel,Peugeot,Porsche,Renult
Romeo,Rover,Saab,Seat,Skoda,Smart,Transporter
& V-Class,Volkswagen,Volvo
Japan:Daihatsu,Honda,JPIsuzu,Mazda,MitsubisHI,
Nissan,Subaru,Suzuki,Toyota
Other Cable
Non-16 pin cable
9 pcs
Printer
Buy SO118 X431 Printer
Buy SO118 Pinter
Launch X431 Diagun IV FAQs:
Question 1:
If this device must connect to wifi during diagnosis?
Answer 1:
You can bluetooth to diagnose,when you update the scanner you need to connector wifi.
Question 2:
Can this re calibrate the electronic throttle position sensor on Japanese vehicles
Answer 2:
Yes, this can re calibrate the electronic throttle position sensor on Japanese vehicles
Question 3:
Is there a feature difference between diagun iv and X431 pro mini ? which one is newer?
Answer 3:
To be honest, x431 diagun iv and pro mini are similar functions diagnostic tool, but the screen and battery of pro mini more bigger than diagun iv.X431 pro mini is more expensive than diagun iv.
Question 4:
Can you diagnose a/c with this ?
Answer 4:
yes, x431 diagun iv can diagnostic all system of car, including diagnose a/c.
Question 5:
After the free 2 year update is over do it need an update to function? Or will I just not get the latest car updates?
Answer 5:
You just won't be able to update.
Question 6:
Can it relearn camshaft sensor on a 2009 Malibu?
Answer 6:
Hello, happy holiday, yes, diagun iv can relearn camshaft sensor on a 2009 Malibu.
Launch X431 Diagun IV Reviews:
Review 1:
Has great software easy to use and bidirectional capabilities. For the money its well worth it, I watched Keith from New Level Auto, and Ivan from Pine Hollow Diagnostics use it and thought if its good enough for them then it should work for Steve at SAG. So glad I purchased the Diagun IV as I needed a bidirectional scan tool with powerful software.
Review 2:
After close to 3 months of use I can say this scanner has more than paid for itself and it has capabilities almost exactly like my $2800 Autel. Basically it has all of the same tests the Autel does and when I have a few minutes to poke around in the tool on different cars I go through the menus and see what other functions are listed and let me tell you this tool does so much for $500ish dollars if it broke tomorrow I'd buy another one because I don't know of anything out there that will do this much stuff for this little money. I still think the hardware could be improved but if you're buying something else you're paying too much.
Review 3:
I love this thing I use it on every car and it always works. Replaced multiple other scanners that were only suitable to a specific marquee of car. Now this lets me be helpful to my friends and family who don't own the same brands as I do.
Review 4:
We recently purchased this tool as an addition to the scan tools we already own, including some manufacturer level and other aftermarket tools. I have to say that this Launch has been a pleasant surprise. It has a ton of capabilities and functions, that some much higher priced tools do not have. I find myself using it all the time now and love the fact that it is small and capable. If you are looking for an all around scan tool, I highly recommend this one. For the price point even the DIY'er should think about this tool as a must have.
Review 5:
Decided to purchase the Launch Diagun and give it a try. I already have an older OTC and new ADS 325. 325 is up for first year subscription, $900. Hmmm. I've only had this for 4 days. Ordered on Sat, received Sun. Tried on my own Honda, SRS light, no problem. Monday-Wednesday, have used on about 11 cars. On a 2011 BMW, it also gives you corresponding "OBD" code.....i.e. BMW DTC 14202 - P0302 misfire cyl 2.
Launch X431 Diagun IV Technical Parameters:
Operating system: Android 7.0
Processor: Quad core 1.1 GHz
Memory: 1GB
Storage: 16GB (Expandable up to 64GB)
LCD screen: 5.5 inch IPS screen with a resolution of 1280 x 720 pixels
Camera: Front-facing 2MP camera + rear-facing 8MP camera
Battery: 2500mh rechargeable polymer lithium battery
Connectivity: Wi-Fi: WLAN 802.11b/g/n
Bluetooth: Bluetooth 4.1
Working temperature: 0℃ ~ 45℃
Storage temperature: -10℃ ~ 50℃
VCI connector Parameters:
Working voltage: 9 ~18V
Working temperature: -10℃ ~ 55℃
Storage temperature: -20℃ ~ 70℃
Relative humidity: 20% ~ 90%
Launch X431 Diagun IV Packing List:
1pc x Diagun lV overseas host RoHs
1pc x DBScar lV diagnostic connector RoHs
1pc x X431 AIT OBD16 extension ine RoHs
1pc x Diagun IV quickstart(English)RoHs
1pc x X431 PIN anvelope
1set x Launch X431 Connector Set Package
When you order from launchx431.net, you will receive a confirmation email. Once your order is shipped, you will be emailed the tracking information for your order's shipment. You can choose your preferred shipping method on the Order Information page during the checkout process.
The total time it takes to receive your order is shown below:

The total delivery time is calculated from the time your order is placed until the time it is delivered to you. Total delivery time is broken down into processing time and shipping time.
Processing time: The time it takes to prepare your item(s) to ship from our warehouse. This includes preparing your items, performing quality checks, and packing for shipment.
Shipping time: The time for your item(s) to tarvel from our warehouse to your destination.
Shipping from your local warehouse is significantly faster. Some charges may apply.

In addition, the transit time depends on where you're located and where your package comes from. If you want to know more information, please contact the customer service. We will settle your problem as soon as possible. Enjoy shopping!