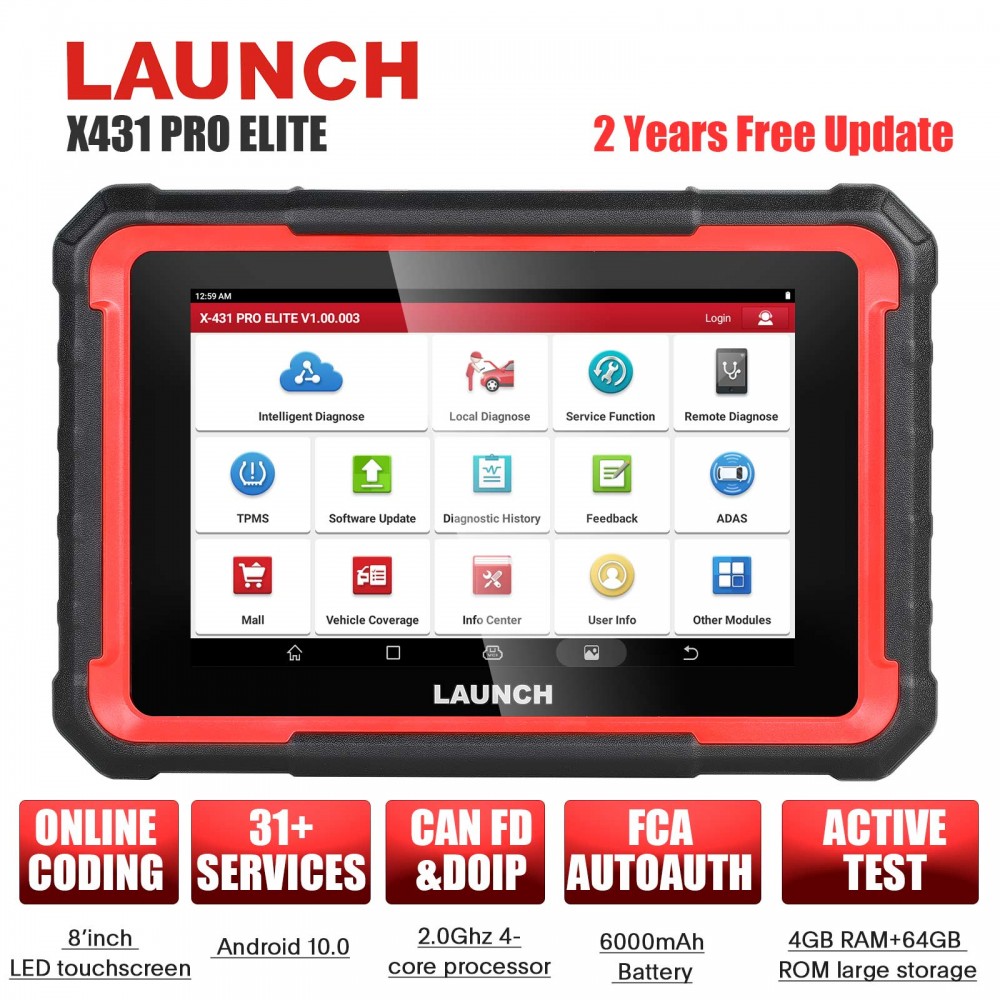 Launch X431 PRO ELITE 8" Auto Full System Car Diagnostic Tools CAN FD Active Tester OBD2 Scanner
Looking for help? or Get More Discount
Please contact WhatsApp:
+1 937 888 0032
Weight: 5kg
Size (LxWxH):
35.50cm x 34.50cm x 16.50cm
Product Description
2023 Launch X431 PROS ELITE Bidirectional Scan Tool with CANFD ECU Coding Full System 32+ Special Function VAG Guide
LAUNCH X431 PROS ELITE gathers the most advanced upgrades of X431 PROS V5.0 and covers all the leading-edge functions at an affordable cost to provide you more smooth diagnostic experience, such as ECU Coding, Component Matching, Bi-directional Control, Oil Reset, NOX Sensor Reset etc., making it far superior to other comparable rival scan tools in functions, hardware, and car coverage: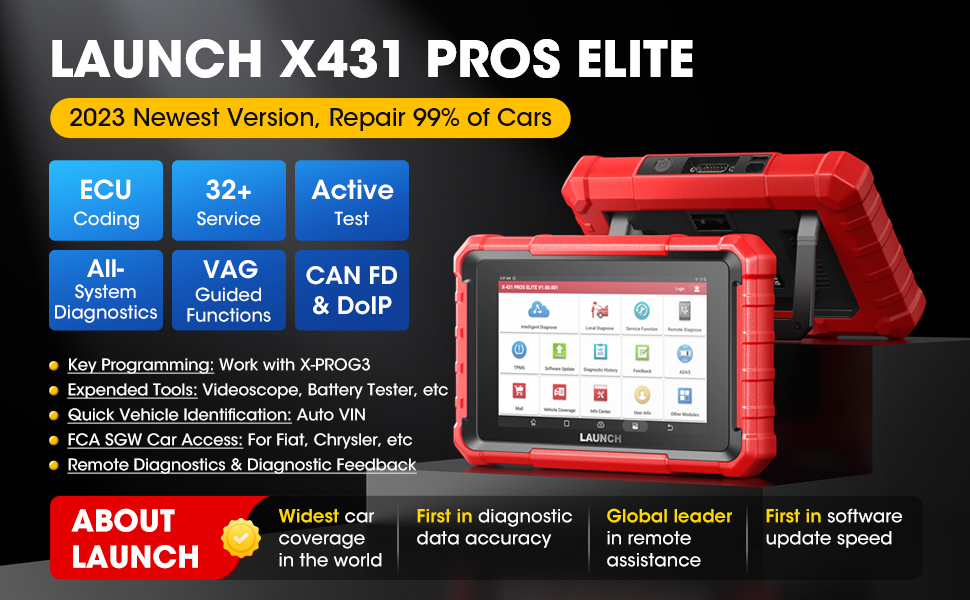 Cost-effective Choice for Repair Shops/Technicians/DIYers: LAUNCH X431 PROS ELITE combines all basic diagnostics and maintenance solutions to improve your work efficiency.
1. Advanced ECU Coding:
Top-level coding functions provide Online Coding, Online Calibration, Online Parameterization, Component Matching, Personalization, Modification & Retrofit, PMI Functions, etc.
2. 32+ Reset Functions:
One LAUNCH scan tool is enough for common repairs. 32+ services combine hot reset with full car supports and most needed special functions for specific cars.
3. Top-level Configuration with Faster Speed:
Android 10.0, 2.0 GHz 4-Core CPU, 4GB RAM, 64GB ROM, 8" Touchscreen, 2.4 & 5 GHz WiFi, 6000mAh Battery, 8MP Rear Camera
4. Bi-directional Control:
Operate various active tests to locate module trouble in minutes.
5. V.A.G Guided Functions:
Professional step-by-step instructions do not need your repair skill, guiding you to solve problems perfectly.
6. Support CANFD & DoIP protocols:
Communicate more car models and run faster diagnostics.
7. FCA SGW Car Access:
Compatible with Fiat, Chrysler, Alfa Romeo, etc.
8. Remote Diagnostics & Diagnostic Feedback
9. 10000+ Car Coverage, Serve Global 99%+ Cars.
10. 2 Years Free Update. After that, you can still use it, it will not be locked
11.
Extensive Modules Add More Check
Compatible with
X-PROG 3
to perform IMMO programming
Compatible with
TSGUN
and
RF-Sensor
to To activate, program, learn, and detect tire pressure
Compatible with
BST360
,
VSP100
, ADAS, WIFI Printer etc.Support common special functions of most models, such as maintenance light reset, throttle valve matching, steering angle reset, brake pad reset, tire pressure reset, ABS exhaust, battery matching, gear information learning, fuel injector coding, DPF regeneration, IMMO 31 special functions such as matching and IMMO programming.
Global Version for Customers outside the UK and EU countries,NO IP Limited.
EU/UK customers Please choose
EU/UK Version, has IP limitation to work in EU/UK Only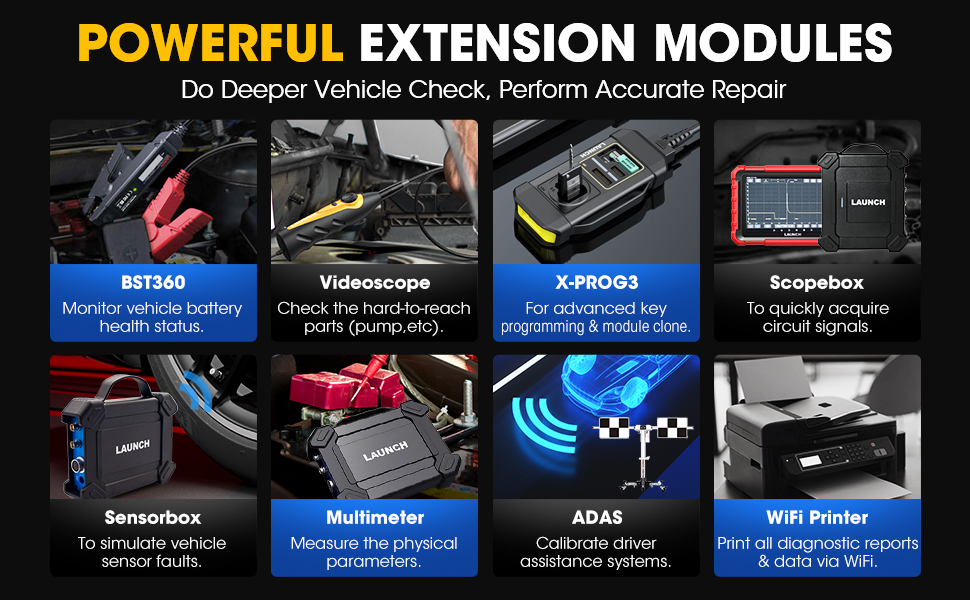 ECU Coding Customizes Vehicle OE-Settings & Take A Leap In ECU Repair
ECU Coding does not imply changing the software! It can be used to handle ECU issues: 1) activate components while original code data is losing; 2) identify new units when changing system components; 3) modify code to open/close some modules.
LAUNCH X431 PROS ELITE diagnostic scan tool for all vehicles can change the preprogrammed options already existent in the software, allowing you to customize cars as needed, such as using the functions not available in the car when it left the factory for different reasons, which not only brings out your maximum ECU control but also increases your profits.
Online Calibration:
Connect to the online server for calibration data. For V.A.G Group cars.
Online Parameterization:
Do module parameterization after changing modules. For V.A.G Group cars.
Component Matching:
Match/Initialize components after changing some components, such as steering angle matching, ignition coil matching, clutch matching, etc.
Personalization:
Open/Close some specific functions and make personal modifications as you need, such as customizing US-style daytime running lights, activating cornering headlights with fog lights, changing the brightness of headlamps, flashing the brake lights during emergency braking, displaying the real speed via GPS signal, etc
Modification & Retrofit:
Newly modify/retrofit modules to upgrade vehicle capacity, running performance, car appearance. Such as interior light covers, bumpers, defroster trim, DVD/navigation software, child l~ocks, signal horn, etc.
Programmable Module Installation:
Match components after changing some components. For Ford models.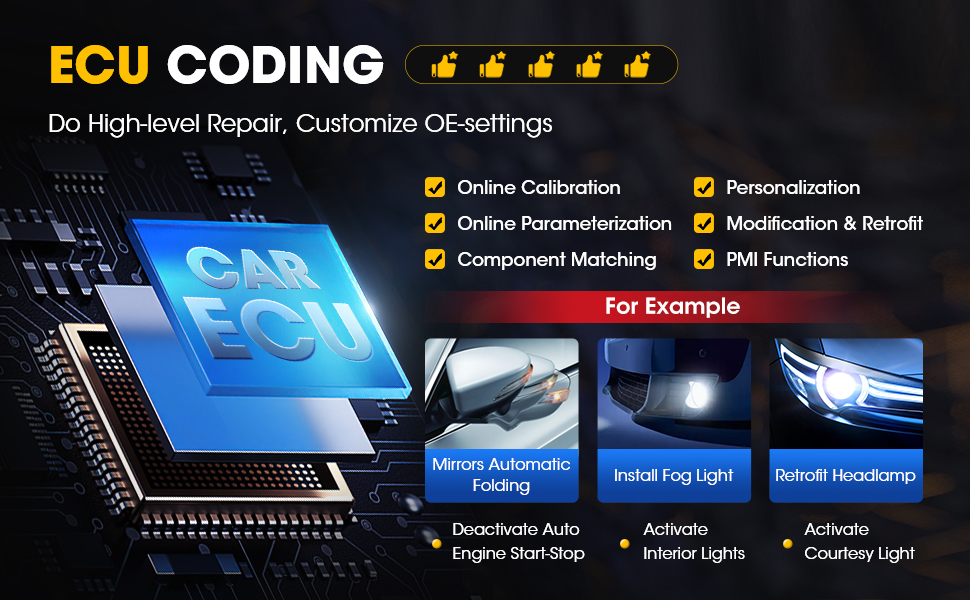 LAUNCH X431 PROS ELITE Performs Advanced Resets/Calibrations/Routine Tests for 10000+ Car Models
LAUNCH X431 PROS ELITE obd2 scanner diagnostic tool features an extremely higher depth of support in car coverage and maintenance coverage than its rivals. When it comes to coverage, the LAUNCH car scanner serves 99% of vehicles and brings regular upgrades for 1996-2023 cars, even 2024 cars included. As to its reset functions, the LAUNCH scanner combines 32+ maintenance functions that are far more than the same-cost scan tools with limited 10-20 functions. Providing a no-hassle service menu and fix cases empowers users to quickly start diagnostics and repair.
Oil Maintenance Reset: Reset the oil life system and turn off the oil light to start a new cycle.
Brake Reset: Use the LAUNCH scanner to reset the brake pad in the following cases: a) the brake pad and brake pad sensor are replaced; b) the brake pad indicator lamp is on; c) the brake pad sensor circuit is in short-circuit; etc.
Immobilizer Reset: Disable the lost k~eys and add new k~eys & remote control for vehicles with low-grade anti-theft systems.
Steering Angle Reset: Reset the steering angle to zero to keep the car running straight.
TPMS Reset Database: Relearn the tire pressure sensor ID with the vehicle after replacement.
Battery Matching: Re-match the battery control module and motoring sensor.
Adblue Reset: Reset urea is needed after replacing or filling diesel exhaust fluid (vehicle urea).
Air / F~uel Reset: Reset urea after the diesel exhaust treatment fluid is replaced or filled up.
NOX Sensor Reset: Reset catalytic converter learned value stored in ECU.
Sunroof Reset: Reset sunroof lo~cking & closing, closing on rainy days, slide/tilt sunroof memory function, outside temperature threshold, etc.
ABS Bleeding: Vent the air of a brake system to restore ABS brake sensitivity.
Throttle Matching: Initialize the throttle actuators to the default state.
Headlamp Reset: Initialize the adaptive headlamp system.
Injector Coding: Code the injector after replacing or adjusting it to correct the f~uel injection volume of each cylinder more accurately.
Seat Calibration: Calibrate the memory in replaced or repaired seats.
Windows Calibration: Perform door window matching to recover ECU initial memory.
Electrical Throttle Relearn, D-P-F Regeneration, Air Level Calibration, Crank Position Sensor Adaptive Learning, Gearbox Relearn, Language Change, Tire Reset, Windows Calibration, etc.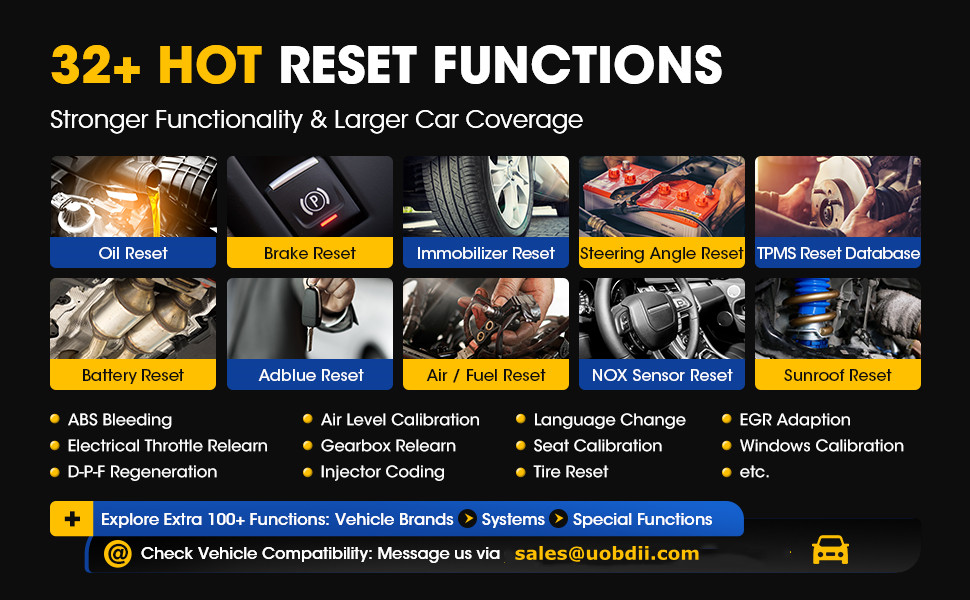 LAUNCH Scanner: Scan All Available Systems And Troubleshoot All Troubles In Ultra Speed
All System Scan:
LAUNCH X431 PROS ELITE scanner for car empowers the auto repair shops/workshops to perform the same level of diagnosis, analysis, and maintenance as the OEM dealer. LAUNCH scanner also deeply scans all available systems including Engine, AT, ABS, SRS, EPB, IMMO, TPMS, Doors, Gateway, Air Conditioning System, Steering Angle System, Air Suspension System, etc., and does more accurate diagnostics for more car models with faster efficiency.
Read Codes: Find out all the DTCs and provide convenience for diagnostics & maintenance.
Clear Codes: After certain repairs have been carried out, you can use this function to erase the codes easily.
View Live Data: Help you view the instantaneous changes in the car's systems and detect possible problems.
View ECU Information: Retrieve ECU information of unit type, version number, and other specifications.
Active Test: Send commands to ECUs and judge where the problem is.
Auto VIN: Access the VIN code automatically instead of inputting manually.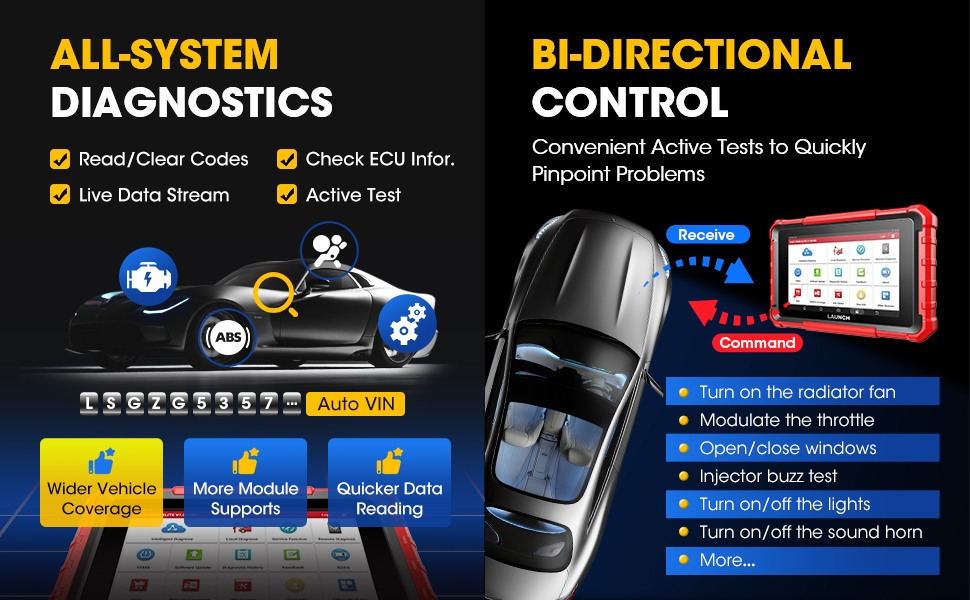 Bidirectional Control (Active Test):
LAUNCH bi-directional scan tool can send commands directly to vehicle modules and perform various active tests to accurately figure out whether a specific system, component, or subsystem in certain parts goes well or not, without using the vehicle controls.
With no active tests, you would have to tear your car into parts to locate possible problems and even replace many auto parts until you stumble upon the one you need to diagnose.
With active tests, you can easily check many modules such as compressors, clutches, mirrors, windows, sunroofs, doors, car l~ocks, etc., and pinpoint car problems in minutes.
More examples of active tests are as follows: A/C compressor clutch relay, Active grille air shutter system, Auto start/stop, Camshaft position actuator system, Compression test, Cooling fan on/off, Engine controls ignition relay, Engine speed/throttle on/off, EVAP emission system, F~uel control loop status, Close/Open f~uel system, etc
Note:
Active tests vary by model. You can check compatibility by messaging us.
10000+ Car Coverage, Serve Global 99%+ Cars And Boost All Repair Shops
Try to use this LAUNCH scan tool that features superior hardware configuration providing 5x faster speed and covers 99% of worldwide vehicles made in 1996-2023 counting 100+ brands & 10000+ models. With the support of CAN FD & DOIP & FCA Vehicle Access, this LAUNCH X431 PROS ELITE automotive scanner can diagnose more vehicles without limitation and more feature vehicles, never be out-of-date.
Superior Configuration, More Memory, Faster Connection:
LAUNCH X431 PROS ELITE is based on Android 10.0 OS and 2.0 GHz 4-Core CPU, with 4GB RAM & 64GB ROM, operating faster diagnostics speed and obtaining large data & graphs without any slow logging. Larger 8" touchscreen makes it easier to read and more intuitive to view live data. 6000mAh rechargeable battery works for longer 15+ hours of use. 2.4 & 5GHz WiFi even accelerates whole data transfer during the diagnostic process & gives great convenience for one-click fast software updates.
Wider 99% of Car Coverage, More 100+ Brands & 10000+ Models:
Compatible with OBD2/EOBD/CAN FD/DoIP protocols, LAUNCH escaner automotriz professional widely works with passenger car, pickup, and light-duty truck, SUV, gasoline, minivans, ranged from American-made cars [for Ford, Lincoln, Chrysler, Dodge, Jeep, GM, Cadillac, Chevrolet, Buick, GMC, etc.] to Asian-made cars [for Acura, Lexus, Suzuki, Mitsubishi, Mazda, Kia, Isuzu, Infiniti, Hyundai, Honda, etc.] to European-made cars [for VW, Seat, Skoda, Peugeot, Citroen, Renault, Volvo, Vauxhall, Smart, Rolls-Royce, Porsche, Mini, Maybach, BMW, Jaguar, Fiat, Ferrari, Dacia, Citroen, Bugatti, Benz, Bentley, Au~di, etc.]
More Protocol Support, Diagnose More Vehicles:
No need to buy any adapters. LAUNCH X431 PROS ELITE is compatible with CAN FD & DoIP which not only improves diagnostic speed on more models such as GM, BMW, Volvo, Land Rover, Jaguar, etc. but also not out-of-date for future new models. Freeing from Gateway limitation, this LAUNCH bi-directional scanner can help (no charge) to login the FCA account successfully and open more gateways to securely operate bi-directional tests, clearing fault codes, SAS calibrations, etc., for Fiat, Chrysler, Alfa Romeo, etc.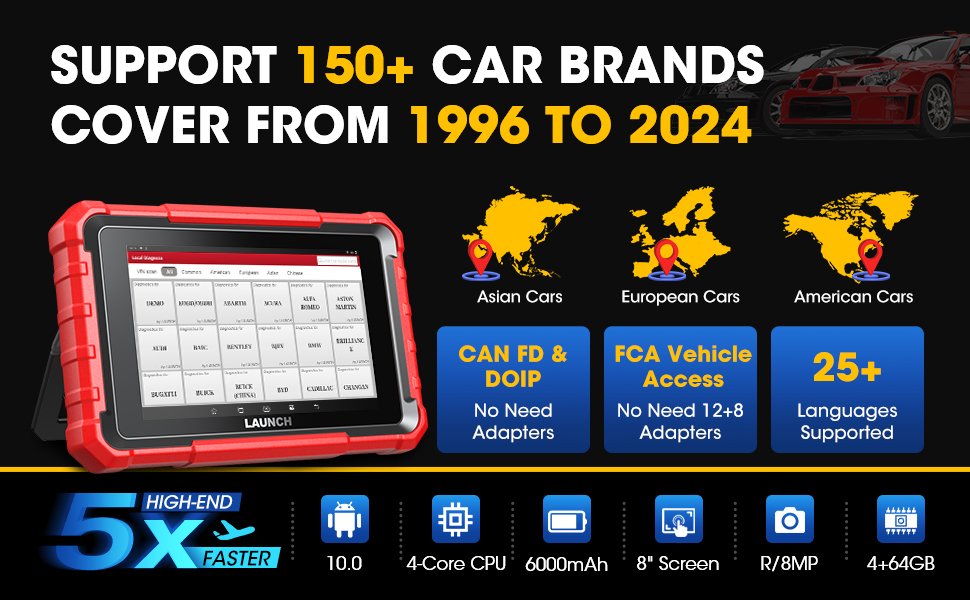 LAUNCH X431 PROS ELITE Works Smarter, Thinks Deeper, Diagnoses Easier
[Guided Functions] Designed with V.A.G guided functions, this LAUNCH car scanner provides on-screen instructions for you to complete some complicated functions and car maintenance step by step, such as ECU coding, SAS calibration, component matching, etc. Compatible with VW, Seat, Skoda, etc.
[Diagnostic Feedback] This function allows you to submit your diagnostic problems to the LAUNCH team for professional analysis and troubleshooting and timely get repair solutions.
[Diagnostic History] LAUNCH X431 PROS ELITE can automatically record every diagnostic process to facilitate later check & analysis that can help quickly locate vehicle problems. And you can print all the diagnostic reports and share them with your customers.
[Repair Information] LAUNCH team combines real repair cases & information to help global users obtain valuable diagnostic information and reduce the repair difficulty, including Operation Tips, DTC Help, Technology Handbook, Product Manual, FAQ, etc.
[Auto VIN] Auto Scan technology empowers your car diagnostic scanner to automatically identify vehicle information, get VIN code, and quickly operate all-system full-function diagnostics with 3x faster speed, without any manual selecting & inputting.
[Remote Diagnostics] No need Team Viewer, this LAUNCH self-developed remote diagnostics technology supports both super remote diagnostics (LAUNCH Scanner with LAUNCH Scanner & LAUNCH Scanner with PC) and WEB remote diagnostics, which aims to help repair shops or technicians launch instant messaging and remote repair, making the job get fixed faster.
[2-Year No-fee Updates] One-click WiFi updating all user software, vehicle software, connector firmware, etc. LAUNCH X431 PROS ELITE obd2 scanner provides 2-Year No-Fee Updates and Intelligent Updating that can automatically filter frequently-used software based on user usage patterns to provide priority upgrades.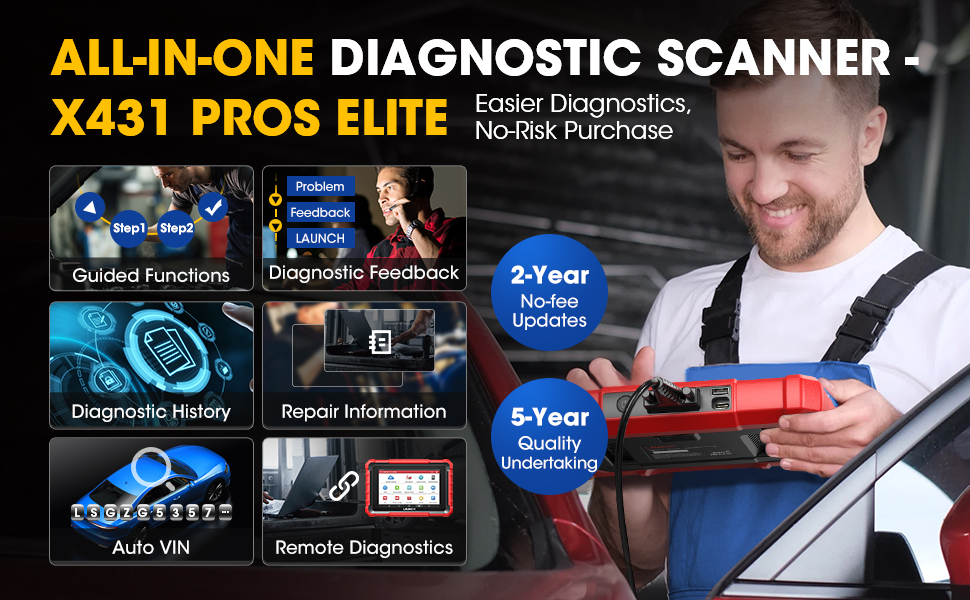 Package List:
1set x Launch X431 Pros Elite
When you order from launchx431.net, you will receive a confirmation email. Once your order is shipped, you will be emailed the tracking information for your order's shipment. You can choose your preferred shipping method on the Order Information page during the checkout process.
The total time it takes to receive your order is shown below:

The total delivery time is calculated from the time your order is placed until the time it is delivered to you. Total delivery time is broken down into processing time and shipping time.
Processing time: The time it takes to prepare your item(s) to ship from our warehouse. This includes preparing your items, performing quality checks, and packing for shipment.
Shipping time: The time for your item(s) to tarvel from our warehouse to your destination.
Shipping from your local warehouse is significantly faster. Some charges may apply.

In addition, the transit time depends on where you're located and where your package comes from. If you want to know more information, please contact the customer service. We will settle your problem as soon as possible. Enjoy shopping!