The Smartlink Remote Diagnostics System is a newly developed powerful service system dedicated to remote vehicle diagnosis and service. In this system, Smartlink C user, as a Smartlink Service Subscriber, can submit remote repair orders to vehicle repair companies (Smartlink B, the Smartlink Service Provider) via Smartlink Service Platform (http://smartlink.x431.com). The Smartlink C applies to vehicles that comply with CAN/Do IP/CAN FD/J2534 diagnostic protocol standard.
The Smartlink C system consists of the following two parts:
(9 SmartLink Service Platform — For binding the SmartLink C dongles and posting the remote repair orders (Note: Orders can be submitted only after the SmartLink C dongle is successfully bound).
0 Smartlink C Dongle — Connects with vehicle's Data Link Connector (DLC) to obtain vehicle information before submitting repair orders.
The working principle of the Smartlink C dongle is as follows: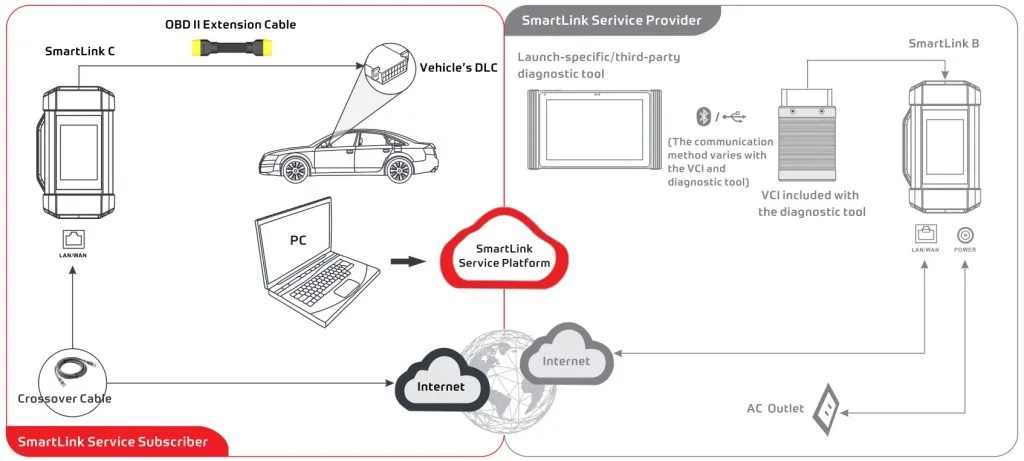 Components & Controls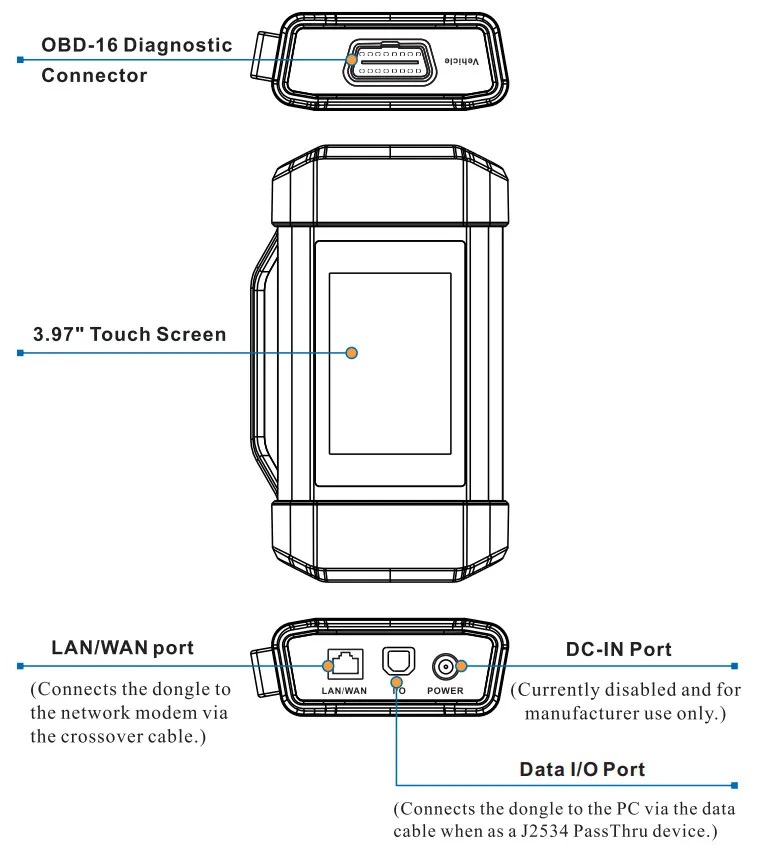 *Warning: The SmartLink C dongle obtains power through the vehicle's DLC (Data Link Connector), and it is prohibited to connect to an external DC power supply. No responsibility can be assumed for any damage or loss caused as a result of not strictly following the above method.
Packing List
The following accessory items are for reference only. For detailed items, please consult a local agency or check the packing list supplied with the device.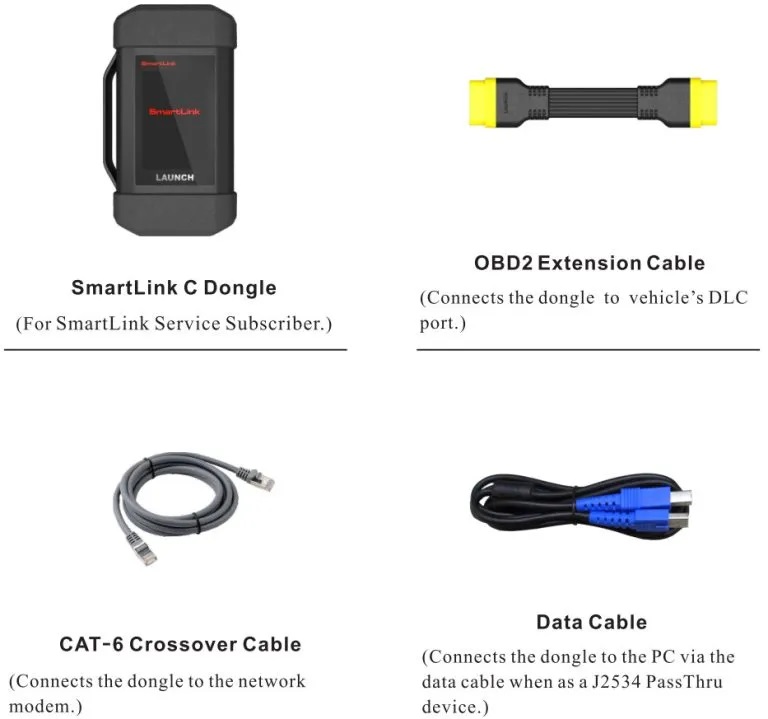 *Disclaimer: Due to continuing improvements, the actual product may differ slightly from the product described herein.
* Due to continuing development and improvements of the SmartLink Service Platform, the user interfaces and functions will be updated periodically. A full version of the operation guidelines on this platform will be available on the following website http://smartlink.x431.com. For more details, please refer to the online Operation Guideline.
Open a web browser on a tablet or computer, visit the Smartlink Service Platform website http://smartlink.x431.com, the following screen will appear.
Click Register now.


Input all the required information (where Product Serial Number and Activation Code can be found in the Password Envelope). Select the "I agree" checkbox after reading "Link Platform Register Protocol", and then click Register now.


After finishing the registration, the system will automatically log in and navigate o the "I'd like a remote assistance" page.


Binding more SmartLink C dongles


To bind more devices to the current account, click Add a device in the upper right corner of the screen. Enter your Product Serial Number and Activation Code, and then click OK.
On the "I'd like a remote assistance" page, click Post Request. Fill in the required information and then click Submit.
* The remote diagnosis can only be performed after the SmartLink C user has submitted the request, and this request has been accepted by the remote technician expert.