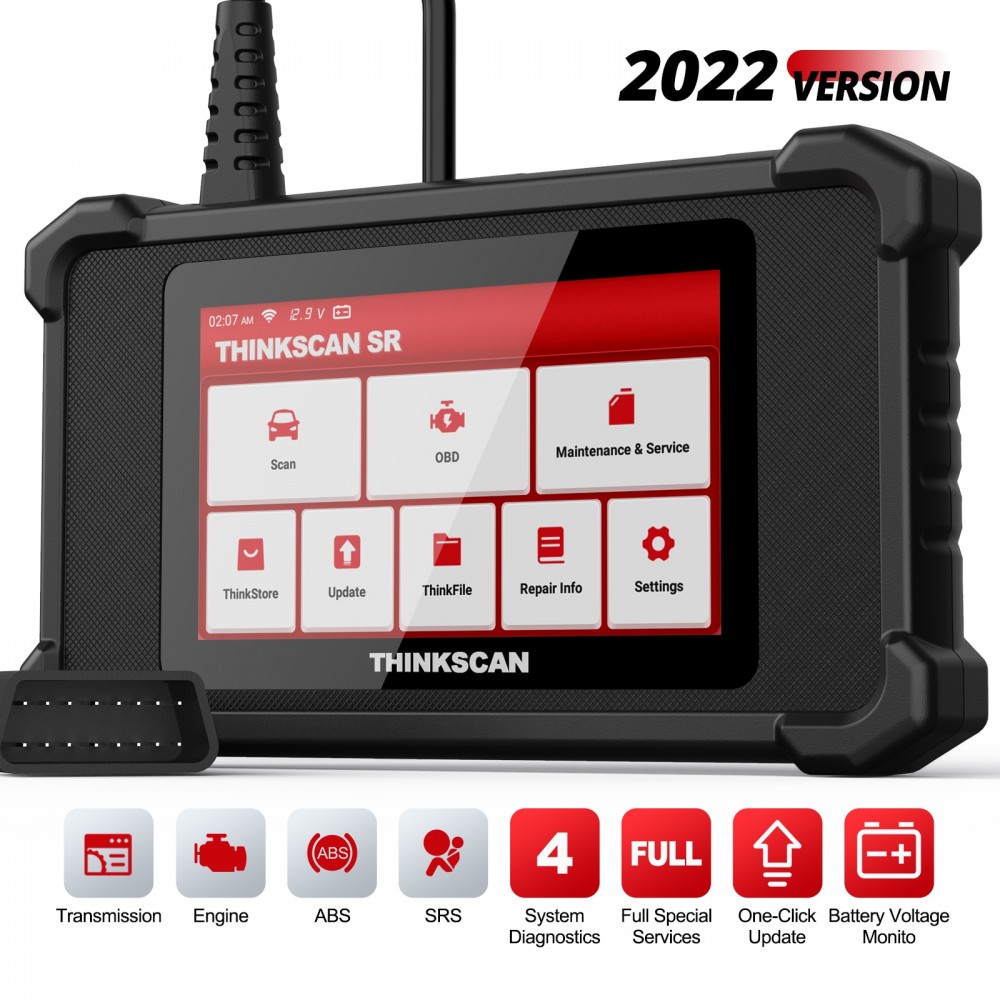 Thinkcar Thinkscan SR4 OBD2 Scanner For Car Scan Tools ABS/SRS/Engine/Transmission Diagnoses Vehicle Code Reader Auto Scanner
Looking for help? or Get More Discount
Please contact WhatsApp:
+1 937 888 0032
Product Code:
ThinkScan SR4
Weight: 1kg
Product Description
NOTE: NOT all functions are compatible with all vehicles. 3 ways to check compatibility before purchasing.
Way 1: Ask a question on QA
Way 2: Download the following "Compatibility Guide" and search your car brand and year on it.
Way 3: Go to THINKCAR brand offical webiste - COVERAGE - search THINKCAR THINKSCAN SR Series - search your car brand & year



ThinkScan SR2

ThinkScan SR4

ThinkScan SR6

Screen Size

5-inch

5-inch

5-inch

Diagnostic System

ABS/SRS
&Engine

Engine/Transmission/ABS/SRS

Engine/Transmission/ABS/SRS/TPMS/BCM

Bi-Directional
Control & ECU Coding

Not Supported

Not Supported

Not Supported

Read & Erase Trouble
Codes/Turn off MIL

✓

✓

✓

Full OBDII Service

✓

✓

✓

Special Features

Oil Service
Light Reset
Electronic Parking Brake

Reset

Oil/EPB/SAS
Reset

Oil/EPB/SAS/TPMS/Throttle
Reset

DTC Look-up & Auto VIN

✓

✓

✓

Battery Voltage Test

✓

✓

✓

Software update

Forever Free
Update

Forever Free
Update

Forever Free
Update
Why Choose ThinkScan SR4?
OE-Level System Diagnoses + 3 Reset Service Functions + Full OBDII Special Functions + AutoVIN + Lifetime Free Update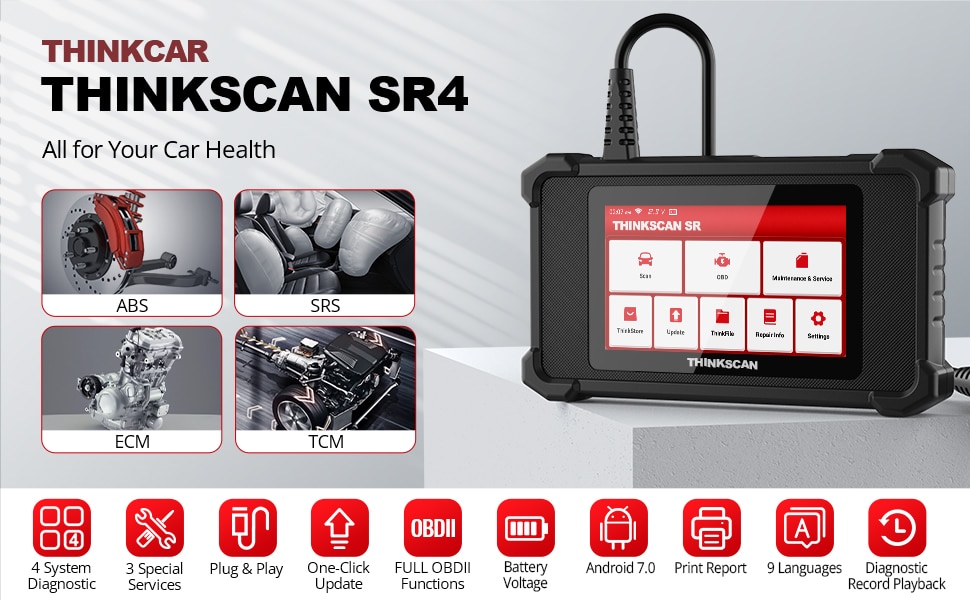 OE-Level 4 System Diagnoses:
Effectively Read/Clear Fault Codes on ENTIRE ECU Systems
ThinkScan SR4 OBD-II scanner provides lifetime free OBD/EOBD diagnosis of the entire car system and subsystems for one car model (ABS/SRS diagnoses etc). Fast Scan and Read/Clear fault codes in seconds, effectively turn off the warning light.

1.Anti-Brake System Diagnosis:
Read and clear the error code in the ABS and turn off the warning light. It retrieves ABS codes to make braking more smooth, consistent, and safe. It also performs live data streams in the ABS that allow the user to monitor and diagnose critical ABS systems to ensure that repairs to this critical system are effective and complete.
2.Engine System Diagnosis:
This module was specially designed for car owners to pass the test Engine. It supports all 10 OBDII test modes-live data, O2 sensor test, Freeze Frame data, and more; read and clear the engine error codes, find out the exact problem, repair it, and turn off the MIL engine light.
3.Transmission System Diagnosis:
AT is a set of transmissions used to coordinate the engine speed and the actual speed of the wheel, which is used to give full play to the best performance of the engine. ThinkScan SR4 auto scanner diagnostic code scanner can read/clear codes and view live data retrieve the error information from AT.

4.SRS System Diagnosis:
A safety restraint system, is made up of impact sensors, a control module, and the airbags themselves. Quickly retrieve, read and interpret SRS system issues and monitor SRS system functionality to rapidly diagnose, and repair, the cause of the issue. Once repaired, this automotive scanner will allow the code to be cleared and the SRS system to be tested, by the PCM, to ensure that the fixes are complete.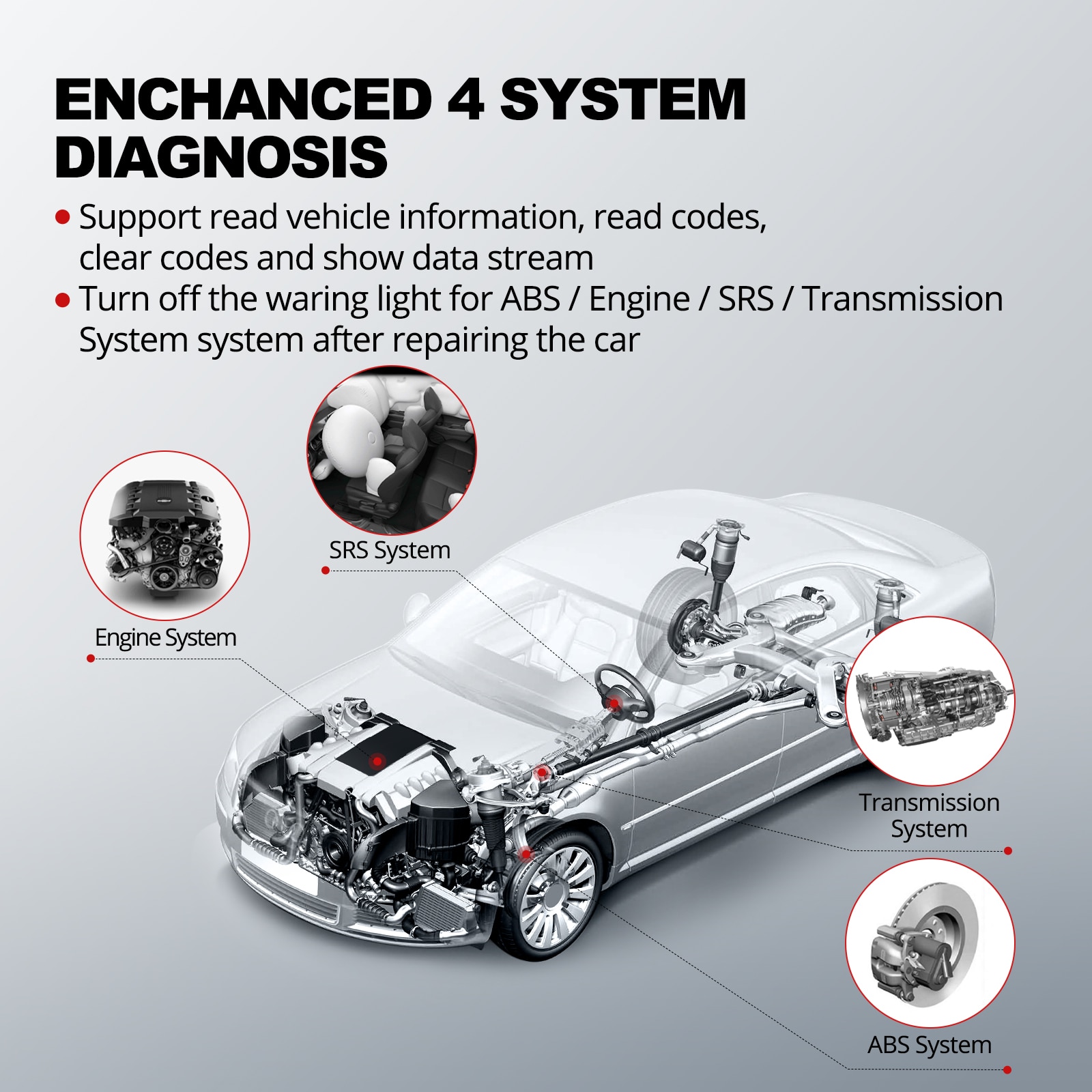 Spport 28 Resets,3 Reset Functions Life Time Free :
ThinkScan SR4 scan tool for all vehicles has lifetime free 3 maintenance services that can be upgraded with One-Touch, including Oil/Brake/SAS. Restore and reset the modules related in seconds after repair.
Oil (Oil Resetmaintenance = lamp reset)
A. The car maintenance light is on, indicating that the vehicle should be maintained. After the maintenance is completed, the mileage or travel time must be reset to zero, so that the maintenance light will go out and the system will start a new maintenance cycle.
B. After changing the engine oil or replacing the electrical accessories that monitor the life of the engine oil, the maintenance light must be reset.
EPB (Electronic Parking Brake Reset=Brake Pad Reset)
A. When the brake is used to a certain thickness, it will grind to the brake induction line. At this time, the brake pad induction line will send a signal to the on-board computer, prompting to replace the brake pads. After replacing the brake pads, you need to reset the brakes, otherwise the car will alarm.

B. Situations that need to be reset:
a. After replacing the brake pads and the brake pad wear sensing line;
b. The brake pad indicator light is on;
c. After the short circuit of the brake pad sensor circuit is repaired;
d. After replacing the servo motor Reset the steering angle to zero to keep the car running straight.
SAS(Steering Angel Sensor Reset)
Reset the steering angle to zero to keep the car running straight.Helps clear the fault steering angle sensor memories and plays an important role in the steering angle sensor calibration.
Warm Tips:"More Detailed Information of Reset Functions Please Check the User Manual on "Product guides and documents".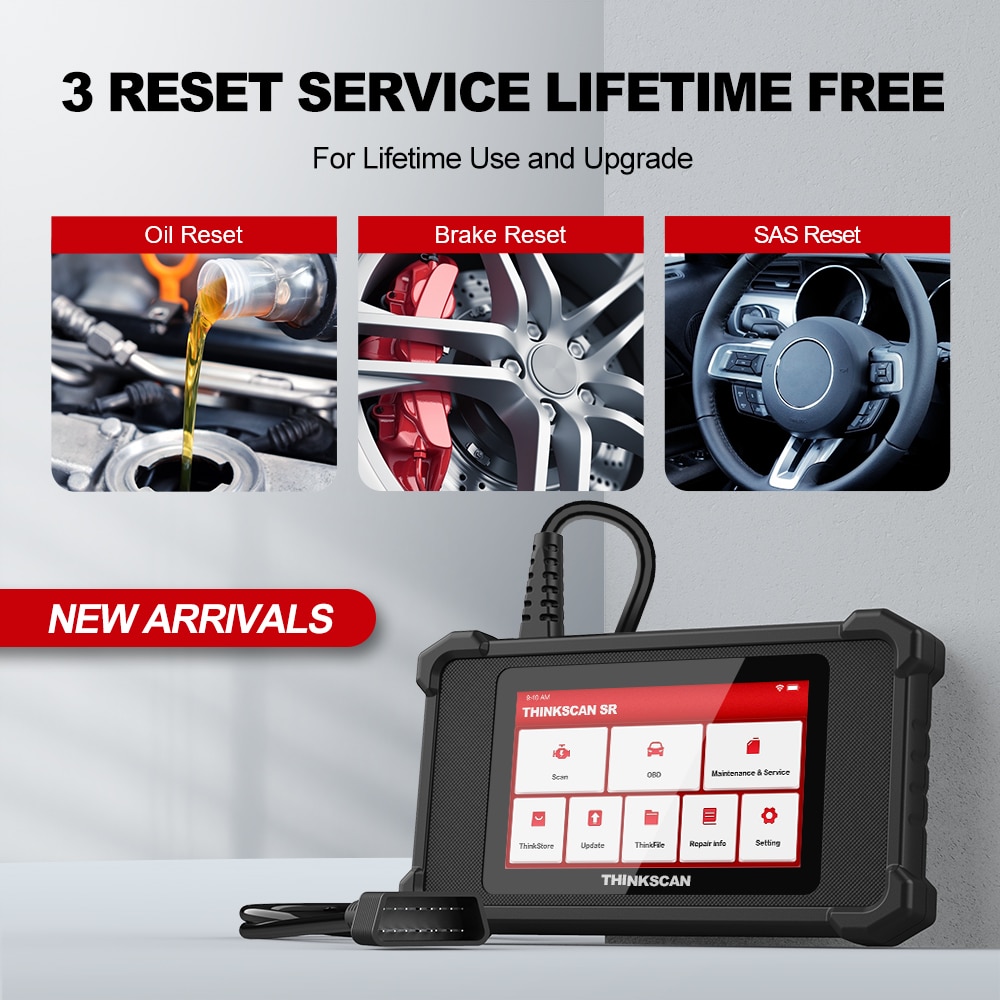 If you need other reset functions from the extra 25 reset functions, it cost 29.95 USD/ year / reset function.
1.BAT battery service
Allows the scan tool to evaluate the battery charge state, monitor the close-circuit current, register the battery replacement, and activate the rest state of the vehicle.

2.DPF Diesel Particulate Filter Reset
Specially works for Diesel Particulate Filter system with DPF regeneration, DPF component replacement teach-in and DPF teach-in after replacing the engine control unit.

3.TPMS Tire Pressure Monitoring System Reset
Makes sense in displaying sensor IDs from the vehicle's ECU, inputting TPMS sensor replacement IDs and testing sensors.

4.IMMO Key Programming
The unique car key programming and read pin code function, it is mainly used to disable the lost vehicle keys and program a new replacement key fob.

5.ABS Bleeding
ABS brake bleeding to get a firm brake pad after air exhaustion after repair ABS pump system.

6.Sunroof Reset
The sunroof needs to be reset when the sunroof control unit have communication problem or changed.

7.Suspension Reset
Try reset electronic suspension air ride with the massage system close all doors koeo flip through messages system go to suspension reset or on off.

8.Gearbox (Transmission )Reset
Procedure Reset Transmission Adaptive Learning DIY. Start the car and drive. Once you perform this procedure the Engine Control Unit (ECU) and Transmission Control Unit (TCU) will work together to learn how you drive by monitoring your driving pattern. After you follow this programming method of the TCU / ECU drive the car.

9.AFS Headlamp Reset
'AFS' means Adaptive Front lighting System (at night with the Bi-Xenon headlights) it swivels either side, pressing that button means they stay pointing straight ahead and don't turn when you turn the steering wheel.

10.Injector Coding
Leaking injectors and some dead injectors can be missed even when an injector is disabled. Other problems with the ignition system and mechanical components also may not show an rpm loss when an injector is turned off.

11.Throttle Adaptation
The throttle body is a tube containing a pivoting flat valve (butterfly) that is used to control the amount of air entering an engine. In an electronically fuel injected car, a throttle position sensor and air flow sensor communicate with the computer, which supplies the corresponding amount of fuel needed at the injectors. It must need re-learning throttle sensor position after clearing or repair.

12.Gear Learning
The scan tool monitors certain camshaft position sensors signals to determine if all conditions are met to continue with the procedure for Engine running.

13.EGR Reset
Reduce nitrogen oxides (NOx) in the exhaust gas and improve fuel economy at partial load.

14.A/F Reset
This function is applied to set or learn Air/Fuel ratio parameters.

15.Adblue Reset(Diesel Engine Exhaust Gas Filter)
After the diesel exhaust treatment fluid (car urea) is replaced or filled up, urea reset operation is required.

16.Airbag Reset
This function resets the airbag data to clear the airbag collision fault indicator.

17.Coolant Bleeding
Use this function to activate the electronic water pump before venting the cooling system.

18.AT Learning
This function can complete the gearbox self-learning to improve gear shifting quality. When the gearbox is disassembled or repaired (after some of the car battery is powered off), it will lead to shift delay or impact problem. In this case, this function needs to be done so that the gearbox can automatically compensate according to the driving conditions so as to achieve more comfortable and better shift

19.Language Change
This function is used to change the system language of the vehicle central control panel.

20.Nox Sensor Reset
Nox sensor is a sensor used to detect the content of nitrogen oxides (Nox) in engine exhaust. lf the Nox fault is re-initialized and the Nox catalytic converter is replaced, it is necessary to reset the catalytic converter learned value stored in the engine Ecu.

21.ODO Reset
a) ODO reset is to copy,write, or rewrite the value of kilometers in the chip of odometer by using a car diagnostic computer and data cable, so that the odometer shows the actual mileage.
b)Usually when the mileage is not correct due to the damaged vehicle speed sensor or odometer failure, it
is necessary to do ODO reset after maintenance.

22.Stop/Start Reset
This function is used to open or close the automatic start-stop function via setting the hidden function in ECU(provided that the vehicle has a hidden function and supported by hardware).

23.Seat Calibration
This function is applied to match the seats with memory function that are replaced and repaired.

24.Transport Mode
ln order to reduce power consumption, the following functions may be disabled, including limiting the vehicle speed, not waking up the door opening network, and disabling the remote control key, etc.At this time, the transport mode needs to be deactivated to restore the vehicle to normal.

25.Windows Calibration
This feature is designed to perform door window matching to recover ECU initial memory, and recover the automatic ascending and descending function of power window.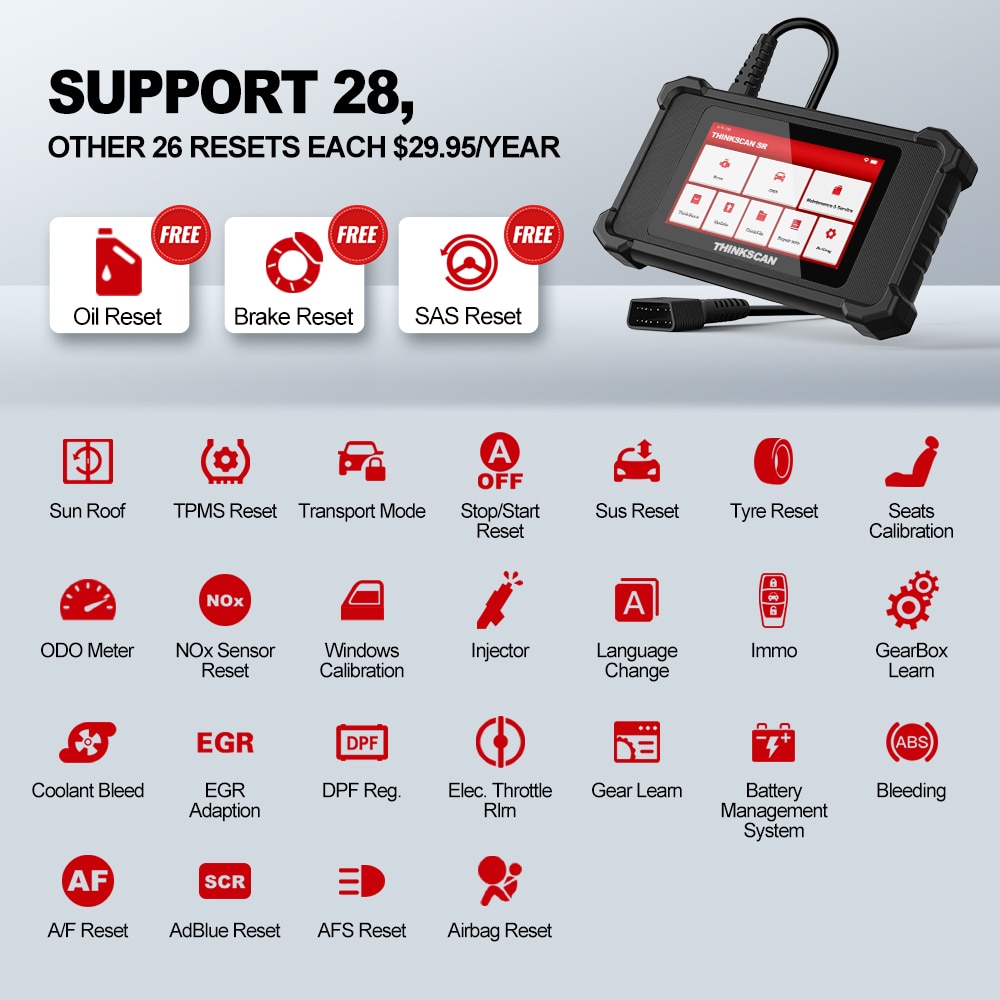 Full OBDII Special Functions
Read Codes, Clear Codes, Live Data, Freeze Frame, I/M Readiness Status, O2 Sensor Diagnosis, On-board Monitor Diagnosis, EVAP System Diagnosis, Component Diagnosis, Accessing Vehicle Information.
– Read and Clear the fault codes, turn-off Malfunction Indicator Light (MIL)
– Displays Fr-eeze Frame data
– Displays O2 Sensor test results
– Display I/M readiness status. (Non-continuously Monitored Systems Test )
– Show Live Data in graphs such as engine RPM, temperatures, ignition advance, speed, etc.
– Request On-Board Monitoring test results for specific monitored systems
– Built-in DTC lookup library with cause analysis
– Special control mode requests control of EVAP test.
– Request Vehicle Information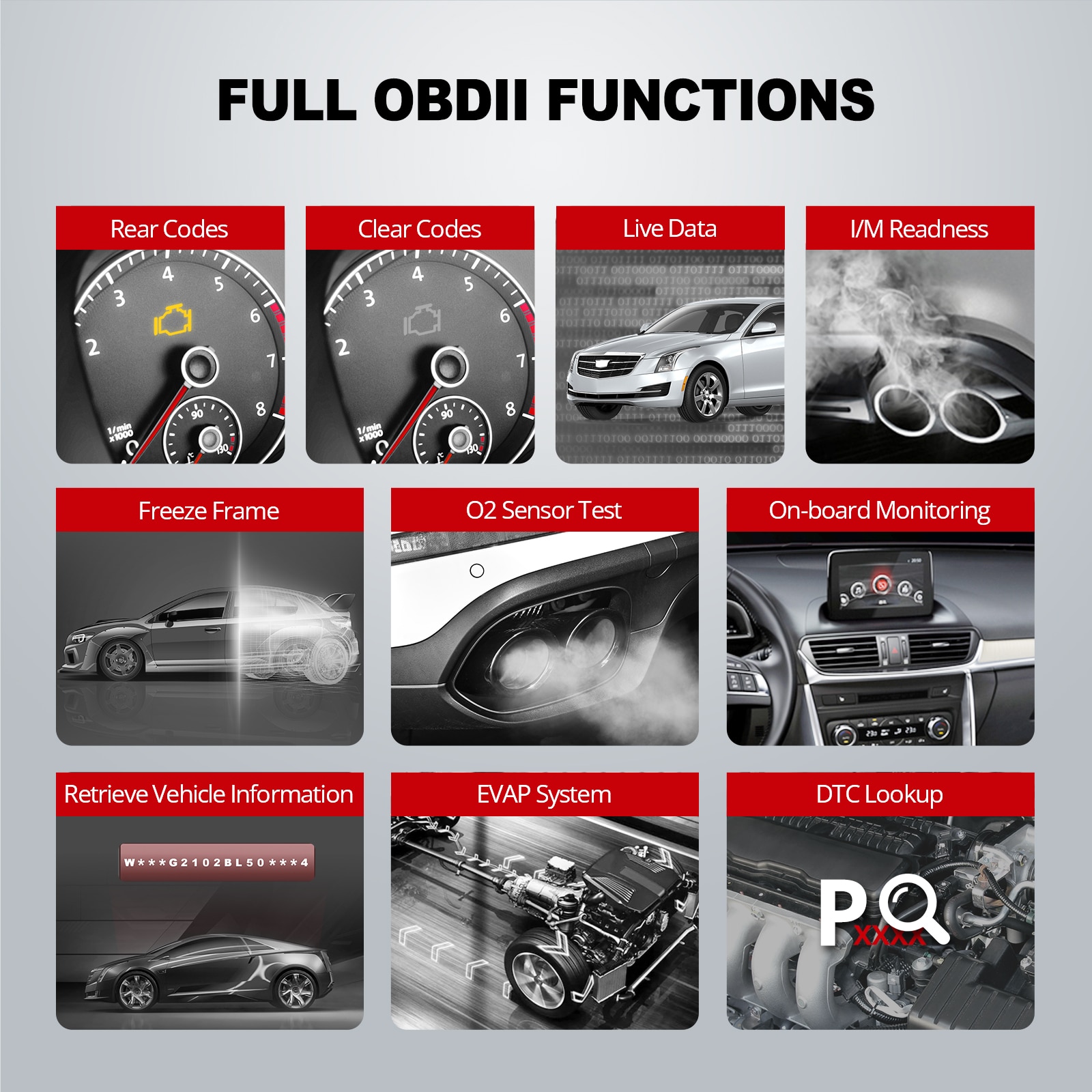 Auto VIN Scan
Automatically identifies your car quickly. Shorten the diagnostic time and help you solve the problem accurately, can quickly scan the vehicle identification number.
One-click Lifetime Free Update via WiFi
Load the latest version, bug fixes, new vehicle models coverage, newly added parameters, and functionality on your scanner.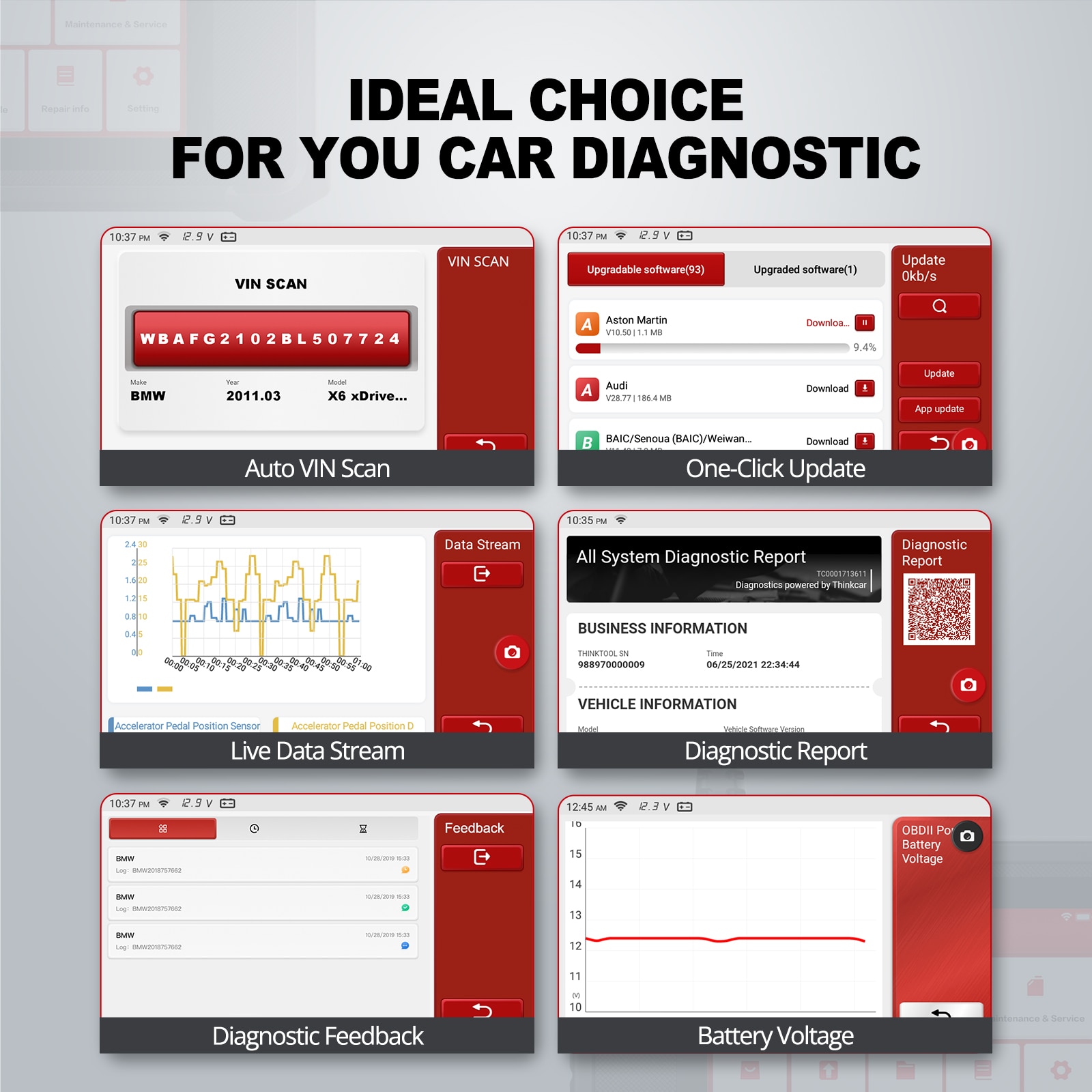 4 in 1 Live Data Stream
ThinkScan SR4 car code scanner supports 4 in 1 data display, saves, reads and prints health reports.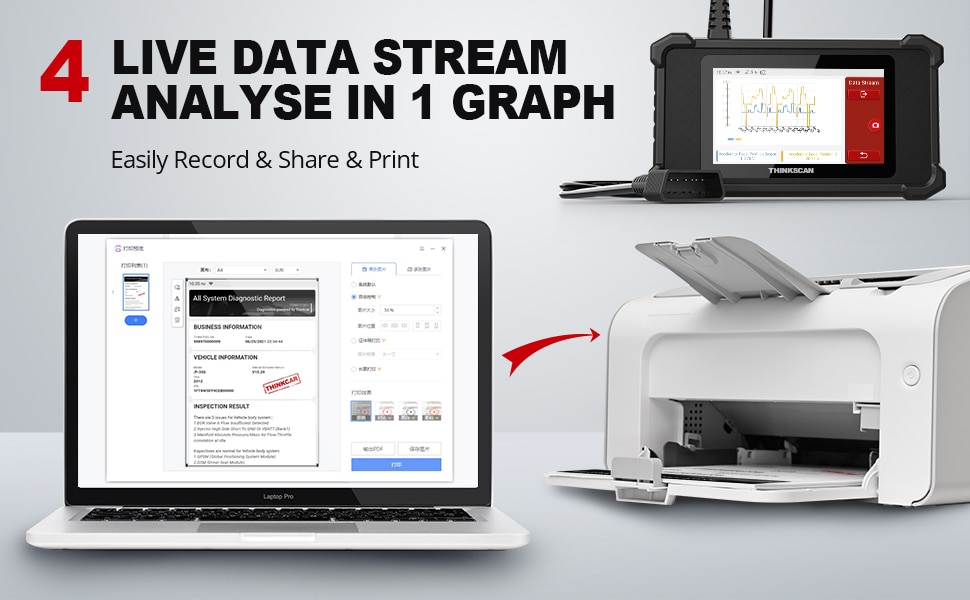 Online maintenance resources
Operating skills, DTC help, automotive technical manuals, service cases, online support and operating videos. Allows you to grasp and understand car breakdown problems more quickly.

Wide Vehicle Coverage:
10000+ Vehicles Coverage , 9 Languages
ThinkScan SR4 scan tool has a wide vehicle coverage and is compatible with 90% of all car models from the US, Europe, and Asia.
America:
Ford(Australia), LINCOLN, BUICK, Chrysler, GM, FORD, CHRYSLER, CADILLAC, CHEVROLET, DODGE, FIAT(BRAZIL), GM(BRAZIL), Jeep, SGM
Europe:
AstonMartin, Benz, Sprinter, BMW, Ferrari, Fiat, LandRover, Maserati, Opel, Peugeot, Porsche, Lancia, LT3, Maybach, Mini, Seat, Skoda, Vauxhall, Volkswagen CV, Renault, Saab, Smart, Volvo, Volkswagen, Abarth, Alfa, Audi, Bentley, Bugatti, Citroen, Dacia, Jaguar, Lambor Ghini, ALFA ROMEO, BENTLEY, BUGATTI, DR, DACIA, EURO FORD, GAZ, IVECO, IZH, JAGUAR, MERCEDES, MAYBACH, OPEL, OPEL(SOUTH AFRICA), PAZ, RENAULT, ROVER, ROLLS-ROYCE, SPRINTER, UAZ, VAZ, VAUXHALL, ZAZ
Asia:
Acura, Daewoo, Daihatsu, Honda, Hyundai, Infiniti, Isuzu, Kia, Lexus, Maruti Suzuki, Mazda, Mitsubishi, Nissan, SsangYong, Subaru, Suzuki, Toyota, GTR, Scion, IKCO, LUXGEN, MAHINDRA(INDIA), MARUTI(INDIA), MAHINDRA(INDIA), MARUTI, MVM, NISSANGTR, PERODUA(MALAYSIA), PROTON(MALAYSIA), PERODUA, PROTON(MALAYSIA), RENAULT SAMSUNG, SAIPA, TATA(INDIA), TATA, TLISUZU, UNITED PAKISTAN

9 Languages Support:
English, French, Spanish, German, Russian, Italian, Japanese,Polish and Portuguese.
5-Inch HD Touch Screen
Screenshot & Screen Recorder, QR Code, or E-mail to share & print the diagnostic report.Easy to operate and easy to carry.

WiFi & Bluetooth Connection
THINKSCAN SR4 code reader diagnostic is equipped with WiFi (2.4Ghz & 5Ghz), with a linear transmission distance of 30 M, which helps use smoothly, download software and get online support normally.
It is equipped with Bluetooth 5.1. It can be used smoothly without jamming, and hold the car scanner to check and diagnose the whole car.
CPU: MT6580 CORTEX-A7 1.3GHz/ 4 Core
Memory: 1GB DDR3/16GB EMMC
Display: 5Inch / 480*854MIPI LCD Display Screen
TP: GT911 GFF
WIFI: 802.11b/g/n 2.4GHz
USB: TYPE C *1
Battery: 3.7V / 600mAH Lithium Polymer
Power Input: OBD 12V input or TYPE C 5V input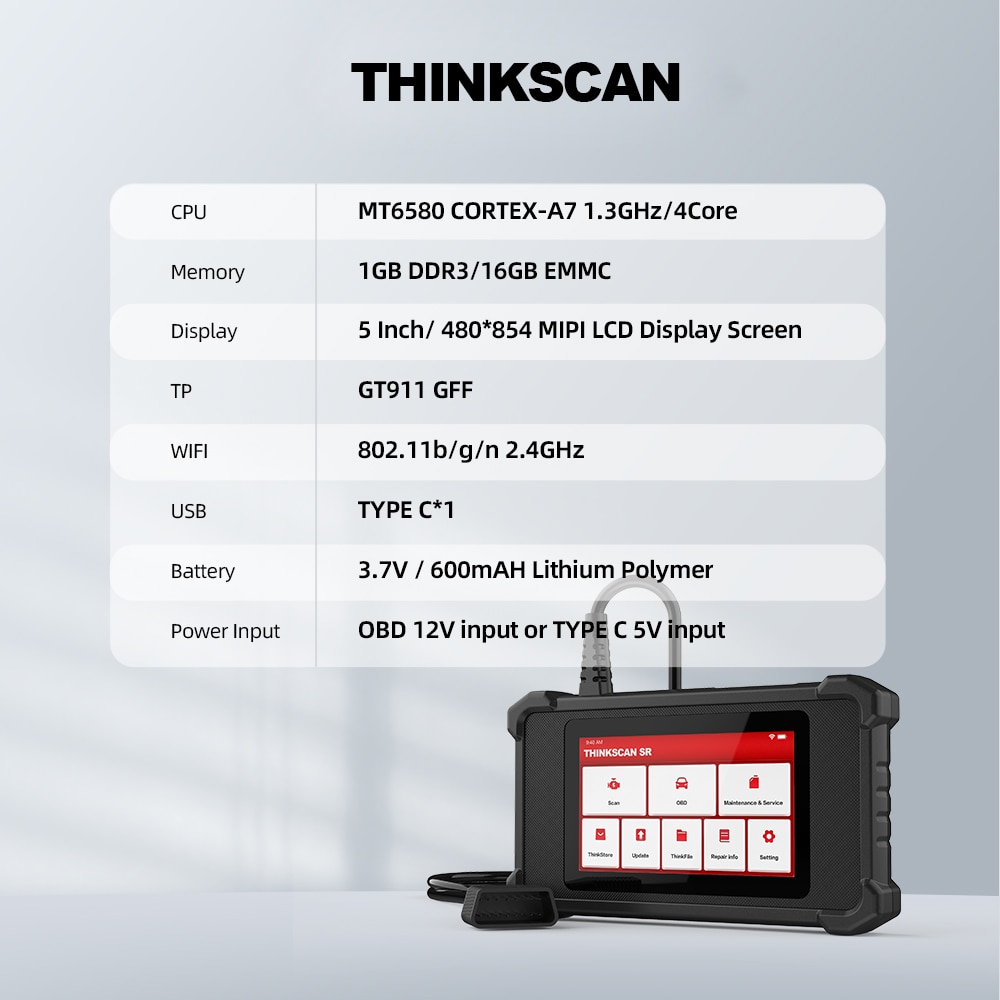 Packing lists
THINKSCAN SR4 & Main Cable X 1,
USB-C Cable X 1,
Quick Start Guide X 1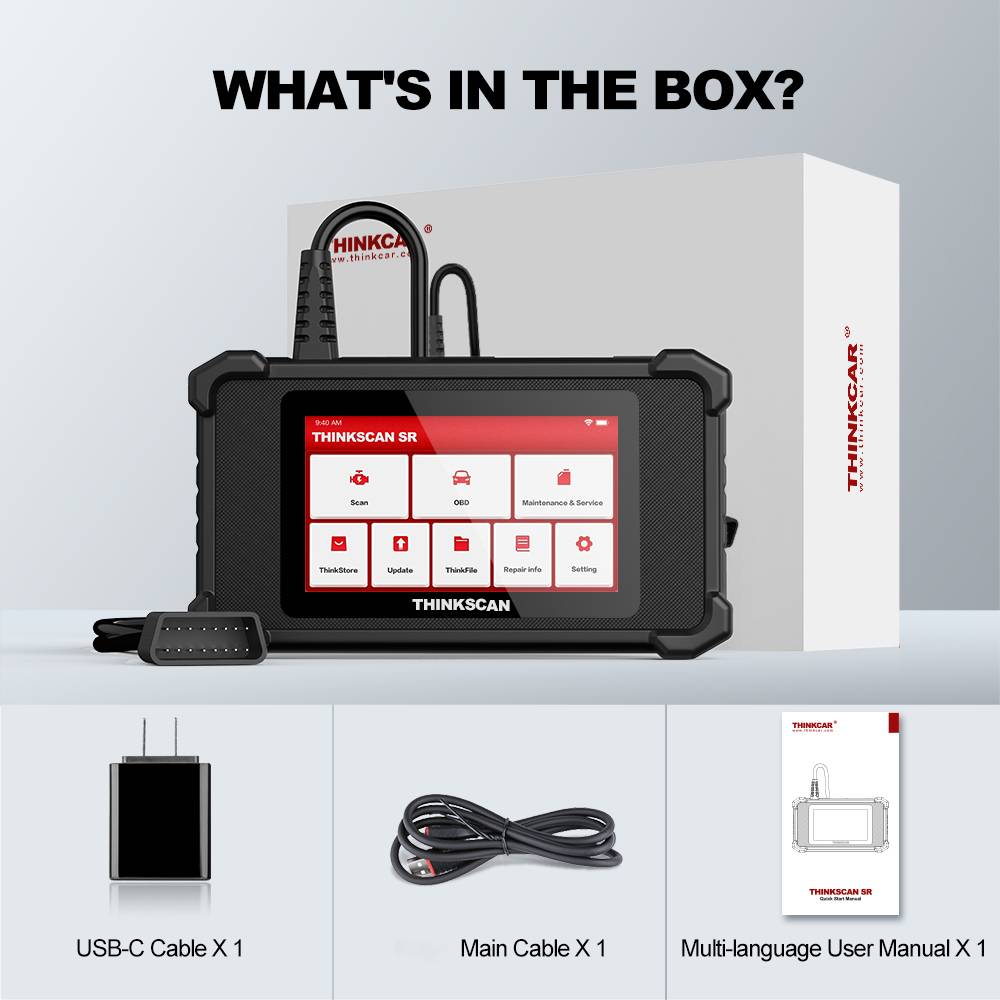 When you order from launchx431.net, you will receive a confirmation email. Once your order is shipped, you will be emailed the tracking information for your order's shipment. You can choose your preferred shipping method on the Order Information page during the checkout process.
The total time it takes to receive your order is shown below:
The total delivery time is calculated from the time your order is placed until the time it is delivered to you. Total delivery time is broken down into processing time and shipping time.
Processing time: The time it takes to prepare your item(s) to ship from our warehouse. This includes preparing your items, performing quality checks, and packing for shipment.
Shipping time: The time for your item(s) to tarvel from our warehouse to your destination.
Shipping from your local warehouse is significantly faster. Some charges may apply.

In addition, the transit time depends on where you're located and where your package comes from. If you want to know more information, please contact the customer service. We will settle your problem as soon as possible. Enjoy shopping!